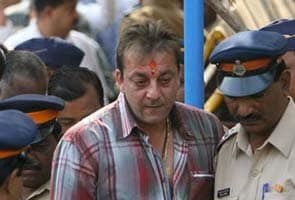 Mumbai:
Member of Parliament Jaya Prada and former Samajwadi Party leader Amar Singh today met Maharashtra Governor K Sankaranarayanan in Mumbai and requested him to pardon actor Sanjay Dutt, who has been sentenced to five years in prison by the Supreme Court in a case linked to the 1993 serial blasts in Mumbai.
Mr Singh said both the trial court and the Supreme Court had ruled that Mr Dutt was not a terrorist; he alleged a media trial against the actor.
"It has been 20 years. He has two children. Now he talks about Gandhi," said Mr Singh, who had mentored Mr Dutt's political career when he briefly joined the Samajwadi Party.
Jaya Prada and Mr Singh met the actor at his Bandra home before going to Raj Bhavan. "Sanjay Dutt has been punished. He has reformed. He spread the word of Gandhi," said Jaya Prada.
Mr Dutt was convicted by the Supreme Court last week for illegally possessing weapons, including an AK-56 rifle. He is out on bail since 2007; the court says he should return to jail within four weeks.
It was Justice Markandey Katju, chairman of the Press Council of India, who first made an appeal to the Governor for Mr Dutt, saying Article 161 of the Constitution gave him the right to pardon a convict.
"The event happened 20 years ago. During this period Sanjay suffered a lot and had a cloud hovering over his head throughout... He has not been held to be a terrorist, and had no hand in the bomb blasts," Justice Katju wrote in his letter to the Governor last week.
While Bollywood has stood by Mr Dutt, even political leaders are joining the campaign for him. Actor and Member of Parliament Jaya Bachchan has said she will meet the Maharashtra Governor to take up Mr Dutt's case.
Maharashtra Navnirman Sena chief Raj Thackeray said the nation "cheered and applauded Sanjay Dutt" during the 20 years that his conviction took. But the Shiv Sena, whose late leader Bal Thackeray had helped Sanjay Dutt get bail, maintains the actor should serve his sentence.