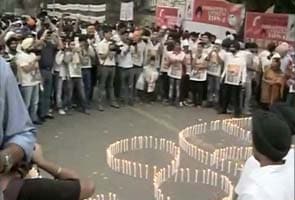 New Delhi:
It has been almost three decades since the 1984 anti-Sikh riots but there has still been no closure, no justice.
The figures speak for themselves.
While more than 8,000 Sikhs were killed across the country, 3,000 were massacred in the capital. Only 30 people in 12 murder cases have been convicted. Politicians and policemen allegedly involved in instigating and abetting the riots are yet to face the law.
In 2005, the Central Bureau of Investigation or CBI finally charged Congress leader Sajjan Kumar and five others for inciting violence. The case is still dragging in the courts. The final hearing was to begin today, but it was deferred yet again due to lawyers' strike.
28 years may have passed since that horrific massacre, but the trial in the Delhi Cantt case against Sajjan Kumar has not concluded yet. It is one of the three cases he faces. In another case, the trial has not even begun. In the third case, even the chargesheet has not been filed even though it was prepared 21 years ago.
Then there is Congress leader Jagdish Tytler who had been let off by the CBI for lack of evidence for his role in the 1984 riots. The CBI's closure report has been challenged in the court and the case drags on.
Recently, while hearing a case against another Tytler, the court had pulled up the CBI for failing to conclude its arguments and taking too much time.
The court said if the investigating agency failed to complete its arguments on the next date, it would go ahead and deliver the verdict without giving the CBI another chance.
H S Phulka, lawyer for the victims, who's been relentlessly fighting for justice for them, says every institution has let the victims down. "I'm sorry to say, everybody has failed the victims of the 1984 riots. We don't expect anything from the Delhi Police. They were complicit in the riots. We had expectations from the CBI, the National Human Rights Commission (NHRC), the judiciary, but so far even they've failed us," he says.
10 different commissions and committees have looked into the 1984 riots in last three decades. 72 police officers were identified for connivance and gross negligence. 30 of them were recommended to be sacked, but no action was taken.
Now comparisons are being drawn with Gujarat riots cases where 148 persons have been convicted so far with 11 death sentences and 133 life terms.
Jarnail Singh, one of the victims, says "In the other case, you say 'Maut Ka Saudagar'. Who is the Maut Ka saudagar here? There, they say, do not forget. Here, the PM says, forget and move on. Why this discrimination against us?"
The victims are now demanding a Special Investigation Team to probe the massacre as the wait for justice just keeps getting longer.