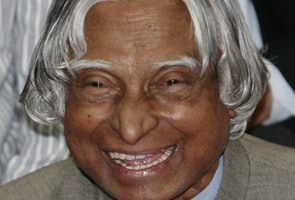 Kalpetta:
In a novel programme to inculcate patriotic spirit in young minds, all the 1200 children of a village primary school in the district sent postcards to former President A P J Abdul Kalam on the eve of the Independence day, greeting him on the occasion.
Responding to the love and affection of the little ones, Kalam replied to the school head teacher that he would try to visit the school next time he comes to north Kerala.
According to Headmistress V J Rosa of Muslim Orphanage Upper Primary School at Muttil near here, the content of the cards varied according to the taste and talent of each student.
Some jotted down poems; some drew pictures and many simply conveyed their best wishes and Independence Day greetings", she said.
The programme was conceived to inculcate spirit of patriotism and national integration in the minds of children.
"In Kalam, they have some one with whom they could easily strike a chord," she said.
The post cards were posted a couple of days before Independence Day to ensure that they reached on the eve of the celebrations.
Get Breaking news, live coverage, and Latest News from India and around the world on NDTV.com. Catch all the Live TV action on NDTV 24x7 and NDTV India. Like us on Facebook or follow us on Twitter and Instagram for latest news and live news updates.