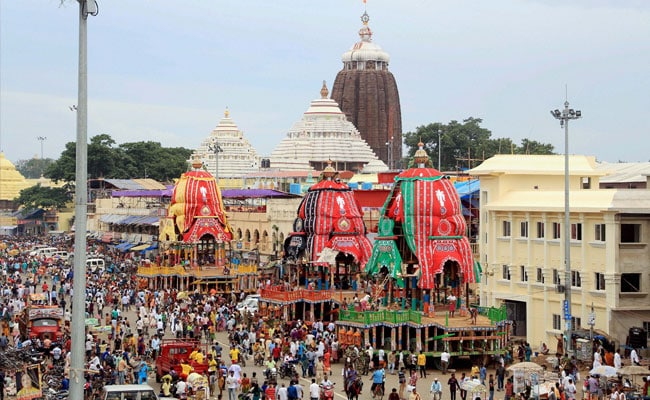 Highlights
Nine-day chariot festival begins today in Puri, Odisha
Security tightened across Puri for the Rath Yatra
Railways to run special trains for extra rush of passengers for festival
Puri:
The annual Rath Yatra of Lord Jagannath and his siblings starts in Puri in Odisha on Wednesday with authorities expecting about 10 lakh people to take part in the nine-day chariot festival.
Security has been strengthened across Puri town for the Rath Yatra.
"Multi-layer security arrangements have been made for the smooth conduct of the festival. CCTVs have been installed at various locations to keep a tab on the people," said Director General of Police KB Singh.
There is heavy security around the three chariots and Grand Road, the sea beach, the railway station and the bus station.
Air surveillance and land and air patrolling will be intensified, KB Singh said.
The visitors would be informed from time to time about traffic management through social media and Puri police administration website, senior police officer Soumendra Priyadarshi said.
Police and other personnel have been deployed to guide the public.
Sri Jagannath Temple Administration has announced it will provide an accident insurance cover of Rs five lakh, effective from July 5 to 17, to each person taking part in the Rath Yatra.
Final touches are being given to the three chariots -- Taladhwaja of Lord Balabhadra, Nandighosh of Lord Jagannath and Darpadalana of Devi Subhadra -- which will be pulled to the Gundicha temple here on Wednesday.
The deities will be worshipped for seven days at the temple.
East Coast Railway will run special trains to clear the extra rush of passengers for the festival.
"Railways have planned to facilitate pilgrims with reserved 'class accommodation,' for the trains leaving from its jurisdiction towards Puri and vice versa, apart from the special trains from neighbouring states," said a statement of the Railways.