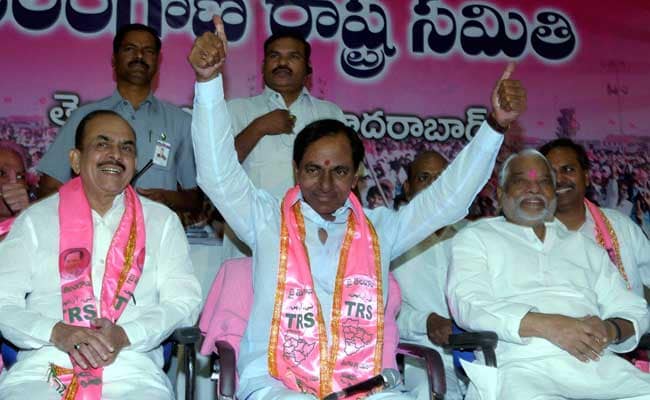 Hyderabad:
The ruling TRS saw today's results in Hyderabad municipal elections that gave it a spectacular victory and majority in the 150-member civic body as a vote of confidence in the leadership of Chief Minister K Chandrasekhar Rao.
"Basically, our work is reaching the people...", TRS leader and Mr Rao's daughter, Kalvakuntla Kavitha, who is also Lok Sabha member from Nizamabad, told Press Trust of India.
The ruling Telangana Rashtra Samithi pulled off a spectacular victory and coasted to majority in the prestigious Greater Hyderabad Municipal Corporation (GHMC) elections decimating the TDP-BJP alliance and the Congress.
"I would say it's only our Chief Minister's vision and his dedication to make sure whatever his policies are...they reach the people. Making a policy is easy; implementation is difficult," she said.
The lawmaker also said Mr Rao is a "hands-on person" who reviews things and sees that deadlines are met.
On TRS not contesting the previous GHMC polls in 2009, Kavitha said it was strategic decision of Mr Rao.
"People had many apprehensions (then)...what will happen if Telangana comes (becomes a reality)...what will be security situation...what would be the real estate situation in Hyderabad and what kind of person KCR would be", she said.
Kavitha further said people had then seen Mr Rao as leader of agitation spearheading demand for statehood for Telangana and they were not sure about him as an administrator.
"Our plank is separate state (then). Contesting alone in Hyderabad does not matter (thinking then)", she said.
Telangana was formed in 2014 with Hyderabad as its capital. "People in Hyderabad (after KCR came to power) have enjoyed the policies or whatever KCR has done as an administrator", she said, adding, people have seen work of the state government.
TRS activists said victory in GHMC polls is sweet and special as the party had won only three of 24 Assembly seats that come under GHMC limits in the Assembly elections in 2014 and was not seen a major political force in the city.
TRS won 96 seats and was leading in four divisions tonight.