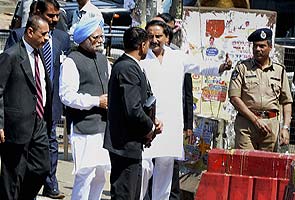 Hyderabad:
Prime Minister Manmohan Singh today arrived in Hyderabad from Delhi in a special aircraft to visit Thursday's blast sites in the city.
Andhra Pradesh Governor ESL Narasimham, Chief Minister N Kiran Kumar Reddy and other dignitaries received him at the Begumpet airport.
Soon after landing, Dr Singh took a chopper to the Victoria Memorial Home and from there he inspected the tiffin centre area where the first bomb exploded in Dilsukhnagar. He spent around five minutes at the blast site where the Chief Minister and the police officials briefed him about the ongoing probe.
Dr Singh then walked to the bus shelter, scene of the second blast which is a few metres away.
Two bombs had exploded in Dilsukhnagar within a span of minutes on Thursday killing 16 people and leaving 117 injured.
The Prime Minister also paid a visit to the two private hospitals where some of the blast victims are being treated. Speaking to 22-year-old MBA student Rajitha, one the injured at the Yashoda Hospital, Dr Singh said, "I have come to share the grief of people of Hyderabad. I express condolence for the families of the bereaved and wish speedy recovery for the injured." Rajitha was badly injured in the blast and her leg amputated.
He also lauded the people of the city for refusing to be provoked by the "nefarious" act. Making an appeal for peace, he said, "I call upon the people to maintain calm in this hour of grief.
After visiting hospitals, the Prime Minister left for Delhi from the Begumpet airport in the afternoon. Before his departure, Dr Singh was briefed by the Governor, the Chief Minister and other senior government officials