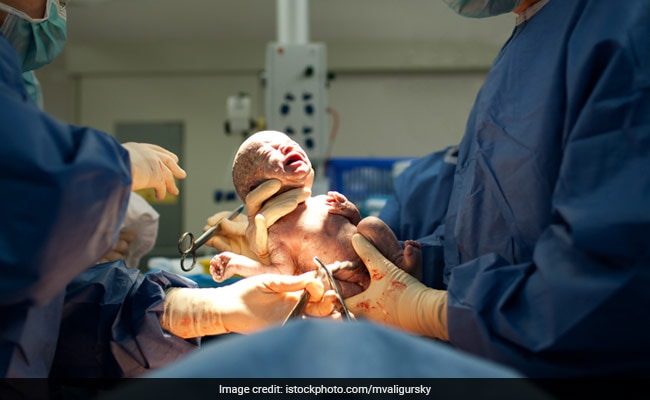 Highlights
18 months gap is required to have a vaginal birth after cesarean delivery
Position of the baby should be head downwards for VBAC
Scar rupture is a major risk factor in VBAC
It is commonly believed that a woman who has had a c-section or a cesarean delivery once, can have a c-section only for the consecutive pregnancies. Risks of complications at the last moment have made doctors opt for cesarean delivery in order to assure safety of the mother and the child. However, medical experts are now trying to work against this. All women can opt for vaginal birth after cesarean (VBAC) for their second of third birth in order to avoid complications of c-section delivery.
We speak to gynecologist Dr Bandana Sodhi about risks involved with vaginal birth after cesarean delivery and what are the important prerequisites for it. She says, "There is a certain criteria which needs to be followed for vaginal birth after cesarean because of the risk factors associated with it. Scar rupture is the major risk factor associated with vaginal birth after cesarean."
Also read: 7 Foods You Must Avoid During Pregnancy
A case of scar rupture can be fatal both for the mother and the baby. To avoid the same, Dr Bandana mentions that the following criteria need to be followed:
1. The gap between the two pregnancies is important when considering a vaginal birth after c-section delivery. A minimum gap of 18 months is required to have a vaginal birth after cesarean. You cannot even attempt for a vaginal birth in case the gap is lesser than this.
2. Weight of the baby in the 9th month will also determine if a vaginal birth after cesarean delivery is possible or not.
Also read: This Is How Much Weight You Should Gain During Pregnancy
3. Position of the baby should be head downwards for vaginal birth after cesarean delivery.
4. There should be a roomy passage for the baby. The pelvic needs to be adequate for the baby's passage.
5. The reason behind cesarean delivery during first pregnancy also needs to be seen. That helps in diagnosing if the same risk factors exist during the current pregnancy.
Also read: Depression During Pregnancy May Give Your Child Sleep Disorders
6. The scar sequence and how thick it is also needs to be checked for having a vaginal birth after cesarean delivery.
Deviating from any of the aforementioned risk factors can be fatal for both the mother and the baby. Obesity and women above the age of 40 are also at risk of stillbirth during vaginal birth after cesarean delivery. Constant monitoring of the would-be mother is required. All facilities should be handy during vaginal birth after a cesarean delivery as there are always chances of c-section delivery in the last minute.
(Dr Bandana Sodhi is a Senior Consultant in Obstetrics and Gynaecology at Moolchand Hospital.)
Disclaimer: This content including advice provides generic information only. It is in no way a substitute for qualified medical opinion. Always consult a specialist or your own doctor for more information. NDTV does not claim responsibility for this information.