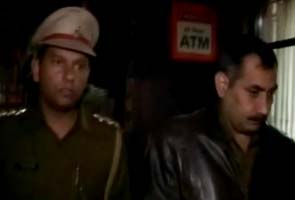 Gurgaon:
Two people were allegedly stabbed to death by three unidentified men after an altercation in Gurgaon last night.
The incident took place at around 11 pm near Sohna Chowk on Old Railway Road.
According to witnesses, the assailants fled the spot after one of them stabbed the victims near an ATM.
Bhola, an eyewitness, said the victims were stabbed by the assailants after a fight among themselves. "We were at our shop and were busy serving customers when we noticed two men fighting with three others. At first we thought they were just playing around. They were in front of the ATM. Later I saw some blood on the waist of the victim," he said.
While one of them died on the spot, the other succumbed on his way to hospital.
Crime branch officials reached the spot soon after the incident took place. They found one of the victims lying dead outside the gate of an ATM. The other victim, who was injured when they found him, was lying a few metres away. Deputy Commissioner of Police (Crime) Rajesh Kumar said, "Two people have been stabbed to death. We are yet to identify the victims."
The cops are relying on the footage from the CCTV of the ATM to ascertain the identity of the assailants. They have registered a case of murder against unidentified people.