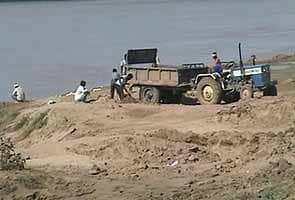 Panaji:
In an effort to weed out illegal mining activity, Goa government is reviewing all files cleared
by the State Mines and Geology Department over a decade. Mines and Geology department director Prasanna Acharya, in an affidavit before Bombay High Court bench at Goa, said he has initiated steps to review all files of the department that were processed during the last 10 years.
Chief Minister Manohar Parrikar had pledged to nail illegal mining activity in the state by cleansing the department and also by reviewing all files cleared during the last ten years.
The Parrikar government has already suspended the then director of mines, Arvind Lolienkar, holding him responsible for the irregularities in the mining department.
The Directorate of Mines and Geology has filed an affidavit, responding to the writ petition filed by NGO Goa Foundation against illegalities in the ore mining sector of Goa.
Acharya has submitted that the department has designed a new website which is being audited.
"After the launch of website, matters like issuance of royalty challans, no objection certificates for export, issuance of transit passes along with other aspects to curb illegal mining activities in the state and efficient monitoring of the legal mining would be tackled," the director has pleaded.
The department will finalise the new Goa Minerals (Prevention of Illegal Mining Transportation and Storage) Rules, 2012 to repeal and replace the 2004 rules within three weeks, he said in the affidavit.
The new rules will cover issues like registration of vehicles and barges, regulation of transportation of ore by transit passes, installation of check posts and weigh bridges, implementation of Radio-Frequency Identification (RFID), global positioning system and other technologies available to curb illegal mining, Acharya said in the affidavit.
According to him, the policy will also take care of registration and regulation of trading activities, demarcation of boundaries of the mining leases, including installation of boundary marks and others.
It will also tackle the issue off regulatory staff and other measures including regulatory fees to be recovered from the mining lease holders and transporters, to regulate mining activities at the respective mines.
Goa's illegal mining trade has been investigated by Justice M B Shah Commission. This commission had already submitted its report to the Union government.
The initial estimates by state Legislative Assembly's Public Accounts Committee (PAC) had pegged the illegal mining in Goa to be worth Rs 4,500 crores.
Goa is the largest exporter of iron ore in the country, which is sent across to China for production of steel. The state had exported 43 million metric tonnes of ore last year, which is a drop by almost 15 per cent to the previous year.