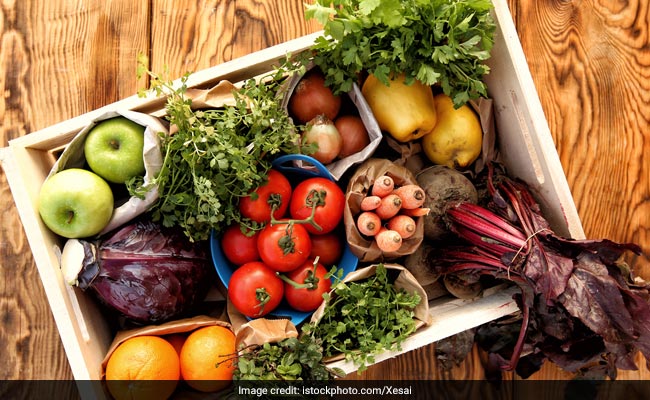 Following a plant-based diet may help in preventing or managing many lifestyle disease, including cardiovascular disease, blood pressure, diabetes and obesity. Many health experts, dietitians and nutritionists around the world have time and again emphasised on the need to include green leafy vegetables, lentils, pulses, whole grains, et al. Adding more vegetarian (plant-based) protein-rich foods to our diet will not only help us combat many disease but will also give us enough amount of essential nutrients our body requires. And if you are someone who is watching their weight and want to keep blood sugar levels in control, then switching to vegetarian foods or diet would be a great idea. According to Delhi-based Nutritionist Mehar Rajput from FITPASS, "Vegetarian diet not only provides fiber and antioxidants but also good amount of dietary fiber, potassium, magnesium, folate and vitamin A, C and K. This diet has a natural tendency to reduce calorie Intake. It not only helps in shedding extra kilograms but also helps in reducing the risk of many serious health ailments like cardiovascular disease, diabetes and hypothyroid. People who substitute meat for plant-based proteins can reduce the risk of facing kidney disorders, type-2 diabetes and cancer such as prostate cancer, colon cancer and breast cancer."

So, on this World Vegetarian Day, Try Out These 5 Healthy Vegetarian Dinner Recipes For Weight Loss:
1. Sweet Potato And Quinoa Bowl Recipe

An easy, one bowl meal with sweet potato, coconut nuts and quinoa is perfect for the ones looking to shed some extra kilos and for the ones who want to keep their blood sugar level in control. Both sweet potato and quinoa are known to help manage weight and diabetes.
Ingredients:
1 Cup Sweet potato cubes (cooked), peeled
1 Cup Coconut (unsweetened), shredded
1 To taste Onion, finely chopped
1 Cup Quinoa (cooked)
1 Tbsp Raisins /Cranberries
1/2 Cup Cashew nuts
1 tsp Pepper powder
1/2 tsp Cayenne
1 Bay leaf
As per taste Salt
Method:
1. Take a pan and heat oil in it.
2. Now, add bay leaves and onion and fry till onion is translucent.
3. Add pepper, cayenne, cooked sweet potato and coconut. Fry them till nice aroma comes out of coconut.
4. Add raisins/cranberries, cashew nut and fry till cashews are brown in colour. Mix well and fry for another five minutes.
5. Mix in cooked quinoa and mix well. Leave it on a medium flame for 3 minutes. Switch off and serve.
(Also Read: 10 Best Vegetarian Recipes)

2. Moong Dal ki Khichdi Recipe
A perfect one-dish meal, which can easily be prepared with all the essential nutrients; and surprisingly light, this is considered as one of the best comfort foods, particularly in eastern and northern India.
Ingredients:
1 Cup Brown Rice
1/2 Cup Moong dal chhilke wali (split green gram)
2 Tbsp Ghee
1 tsp Cumin seeds
A pinch of Heeng (Asafoetida)
1 Tbsp Dhania, powdered
2 tsp Salt
Method:
1. Star with washing the rice and the dal. Soak them together in water for 1/2 an hour. Drain and keep aside.
2. Now, take a heavy-based saucepan and h eat ghee in it. Add the cumin and heeng to it.
3. When the seeds splutter, add the rice and dal mixture, and saute over high heat, till well mixed and excess water dries up.
4. Add the dhania powder and the salt and mix well too. Add 2 1/4 cups water, and bring to a boil (covered).
5. Lower the heat and simmer for 10 minutes, by which time the khichdi should be cooked, and ready to serve.
(Also Read: 10 Vegetarian Recipes That Leave You Wanting More)
3. Paneer Tikka Recipe
Every Indian dinner party is sure to have some tikkas. Paneer, capsicum and onions marinated in a yogurt-based marinade and skewered and grilled till brown. Your perfect go-to recipe for healthy dinner meal.
Ingredients:
1/2 kg paneer
1 tomato
1 onion
1 capsicum
Marinade for paneer tikka:
1/2 Tbsp cumin seeds
1/2 Tbsp coriander seeds
1 brown cardamom
10 green cardamom
1/2 Tbsp cloves
1/2 Tbsp black pepper
2 star anise 2 pieces
1/2 Tbsp shahee zeera
3 Tbsp ginger-garlic paste
2 tsp turmeric powder
2 tsp red chilli powder
2 tsp coriander powder
Salt
2 tsp kashmiri chilli powder
2 Tbsp refined oil
1/2 lime
1/2 Tbsp dry mango powder
1/2 Tbsp chaat masaala
2 green chilli, chopped
100 gms whisked curd
1/2 Tbsp garam masala
Coriander leaves, chopped
Mint leaves, chopped
Method:
Marination for paneer tikka:
1. Start with pounding dry roasted cumin seeds, coriander seeds, brown cardamom, green cardamom, cloves, black pepper, star anise and zeera in a mortar and pestle.
2. Now, take a bowl and add ginger garlic paste, turmeric powder, red chilli powder, coriander powder, salt, chilli powder, oil, coriander leaves chopped, mint leaves chopped, lime, dry mango powder, chaat masala (optional), green chilli, whisked curd and hara masala. Mix them all.
For grilling paneer tikka:
1. Take a tray and spread some paneer cubes, julienne onion, capsicum and tomatoes.
2. Mix the masala in the tray. Marinate the paneer cubes. Skewer the tikkas for roasting.
4. Now, keep the marinated paneer tikkas in the fridge for 45 minutes, and then grill the tikkas till cooked. Serve the paneer tikka hot.
(Also Read: Protein-Rich Indian Vegetarian Recipes That You Must Try For Weight Loss And Diabetes)
4. Grilled Marinated Vegetables Recipe
Love veggies in your plate? Try this grilled veggie recipe, which is marinated with olive oil, garlic, parsley and salt assorted vegetables are grilled to perfection.
Ingredients:
1 red pepper
1 yellow pepper
1 aubergine
1 zucchini
3 cloves garlic
1 Tbsp olive oil
1 Tbsp chopped basil for seasoning
Salt to taste
Method:
1. Start with preparing the veggies. Slice the aubergine and zucchini. Cut the peppers into four.
2. Take a bowl and mix olive oil, salt, garlic and parsley in it.
3. Now, coat the vegetables with the dressing. Grill in a preheated oven for about 20 minutes.
4. Garnish with basil and serve hot.
(Also Read: 6 Easy Tips to Switch to a Vegetarian Diet)
5. Couscous with Ratatouille - Tangy Tomato Sauce Recipe
A tasty, tangy tomato-based recipe, which is filling, delicious and healthy! Couscous is a traditional dish from Maghreb or the Northwest Africa, which is cooked with herbs and vegetable stock to serve along with the french staple Ratatouille.
Ingredients:
For the cous cous:
1 Cup Plain couscous
2 Tbsp Extra virgin olive oil
1.5 Cup Vegetable stock
1 Tbsp Herbs (basil, parsley, thyme, cilantro work best), finely chopped
For the ratatouille:
2 Tbsp Olive oil (regular not extra virgin)
6 Tbsp Red onions, chopped
1 Cup Aubergines (cut in to 3 cm cubes)
1 Cup Zucchini (cut in to 3 cm cubes)
3 Garlic cloves, finely chopped
1 tsp Ground cumin
1/2 tsp Sweet paprika
1/2 Cup Tomato paste
To taste Salt
Method:
Prepare the couscous:
1. Take a pan and add vegetable stock, olive oil and salt and bring them to boil.
2. Now, add in the couscous, cover and let it sit for 5-7 minutes. Add the chopped herbs before serving.
Prepare the ratatouille:
1. Take a pan, heat the olive oil. Add chopped onions and sweat until translucent.
2. Now, turn up the heat and add in aubergines, zucchini, garlic, paprika and cumin. Stir fry for about 2-3 minutes.
3. Add the tomato paste and about 1/4th cup of water with the salt and simmer for about 10 minutes stirring occasionally. Serve hot with a sprinkling of crumbled feta.