Highlights
Onam is a 10-day long festival celebrated in Kerala
This year, Onam started on 25th August and will end on 6th September
Onasadhya is a grand meal, spread across a huge banana leaf
Onam is a 10-day long festival celebrated in Kerala and other neighbouring states in order to welcome King Mahabali or Maaveli, one of the greatest kings to have ruled the Southern state. This year,
Onam
started on 25th August and will end on 6th September, 2017. People celebrate the festival with significant customs and rituals along with feasting on to
Onasadhya or Sadhya
. Onasadhya is a grand meal, spread across a huge banana leaf that includes about 24 traditional dishes.
A typical Onasadhya has dishes that include kaalan, avial, olan, thoran, kichadi, puliniji, naranga achaar, papadam, buttermilk, pachadi, plaintain chips and finally a bowl of sweet payasam to end the meal. While Onasadhya focuses on bringing all the tastes on one platter, the sadhya is finished by enjoying a spoonful of sweet. Have you ever wondered why we end the sadhya on a sweet note with the famous kheer-like Southern dessert called Payasam? Here's an interesting anecdote attached to it.


Onam 2017: The Story of Kunchan Nambiar, the Witty Man
Kunchan Nambiar was known to be a witty, literary figure in Kerala. One day, while feasting on a royal meal along with the king and certain other prestigious people of his kingdom, Nambiar claimed that he was full and couldn't have any more and that he finished the entire meal with a lot of difficulty. Hearing this, the king who wanted to test Nambiar, ordered for some Palpayasam, a rich milky kheer. One look at the lovely dessert and Nambiar couldn't resist himself from eating it all up. Surprised to see this, the king asked him how he managed to finish it all when he was so full. Nambiar smiled and said, "Your Highness, imagine a huge crowd; when your arrival is announced, don't they make way for you to pass?" The king was impressed with his reply and announced that every royal meal served will end with a payasam only to wind up the feast on a sweet note.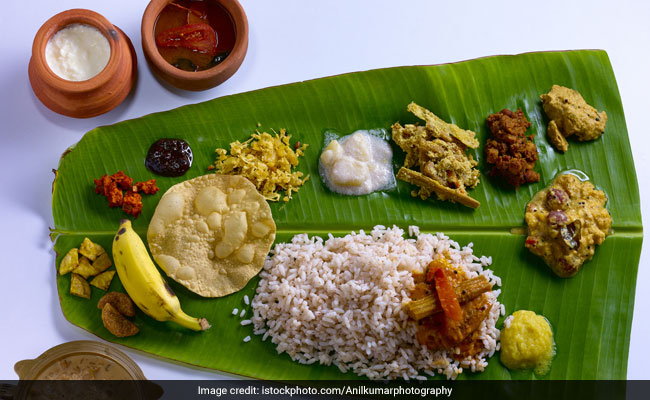 Onasadhya is a grand meal, spread across a huge banana leaf
Payasam can be made in many ways. However, there are two types that are typically served in the Onasadhya. One is made with milk and the other is made with jaggery. Some of the most popular payasams are Adapradhaman, Semiya, Palada, Chakkapradhaman (jackfruit), Ari Payasam (rice), Parippu Pazhapradhaman (banana) and Cheruparippu Payasam.
So, if you haven't had your share of Onasadhya yet, it is time to gorge on some of the tastiest dishes from South Indi on one platter and don't forget to indulge in the sweet treat Happy Onam!
Get the latest election news, live updates and election schedule for Lok Sabha Elections 2019 on ndtv.com/elections. Like us on Facebook or follow us on Twitter and Instagram for updates from each of the 543 parliamentary seats for the 2019 Indian general elections.