India, especially Kerala is prepping itself to celebrate yet another 10-day long festival- Onam that marks the New Year for Malayali Hindus. It is also an end of harvest festival which falls in August-September every year, and the celebrations span over 10 days when the locals partake in Vallam Kali (boat races), Pulikali (tiger dances), flower arrangement, tug of war, Kummati Kali (mask dance), Onathallu (martial arts), musical performances, elephant parade, Kazhchakkula (plantain offerings), Onapottan (costumes), folk songs and dance, and the grand Onam feast called Onam Sadhya.
According to legend, Onam signifies the home coming of King Mahabali, who is believed to be the most successful ruler in mythology. Under his reign, the land flourished and the people were happy because he was a just king. He soon conquered every land on earth, becoming the most powerful king ever. But he then had intentions of conquering heaven, which angered the Gods, and they approached Lord Vishnu for his help. Lord Vishnu took the form of a Brahmin dwarf called Vamana and approached Mahabali who was performing a fire sacrifice.
Onam 2017: Significance of the Festival
It was well-known that during the fire sacrifice, King Mahabali would grant any wish of the commoners if they approached him. Vamana's, the Brahmin dwarf, wish was for the king to grant him as much land as his three paces would cover, which King Mahabali agreed willingly. Vamana then revealed his true self and in just two paces conquered the skies and all the land that was under King Mahabali's rule. For his third pace, the King offered himself to the God, staying true to his words. Lord Vishnu was impressed with his devotion, and knowing that his people loved him, he granted him the permission to return to earth once every year before banishing him. Thus, Onam marks the homecoming of Kind Mahabali, which is celebrated with much fervour by his people.
The first day of the festival is called Atham, and the people are seen making flower arrangements, cleaning their homes, buying new clothes and food items. Uthradom is the day when Mahabali is believed to arrive on earth, and it falls on September 3rd this year. Thiru Onam is the last and most important day of the festival and this year it falls on September 4th. This is the day when Mahabali is believed to visit the homes of his subjects, and as such the houses are beautifully decorated and a grand feast called Onam Sadhya is prepared by his devotees.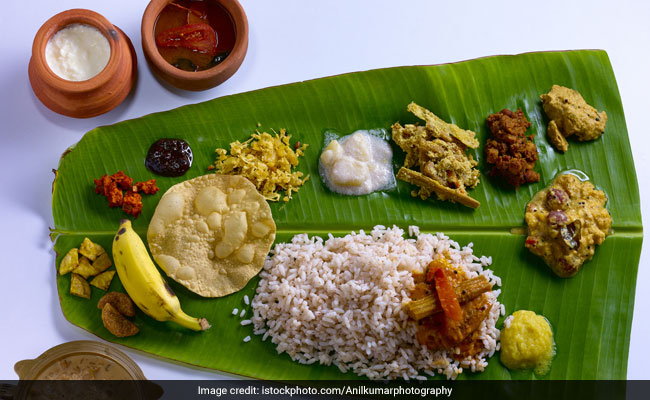 The Onam muhurat timings are
Thiruvonam Nakshathram begins on 3rd September at 9:37 am
Thiruvonam Nakshathram ends on 4th September at 11:18 am
Onam Sadhya comprises a 26-dish vegetarian feast which is served on the 10th day of Onam. The meal is traditionally served on banana leaves and the people sit cross-legged on the floor to enjoy the food together with family and friends. There is even a distinct order in the way the food is served on the banana leaf. The meal includes pappadom, pickles, chutneys, thoran, avial, puliserry, stew, sambar, rasam, rice and payasam among other delicious treats.
For the latest News & Live Updates on Election Results from each assembly constituency in Madhya Pradesh,Rajasthan,Mizoram,Chhattisgarh,Telangana, like us on Facebook or follow us on Twitter for updates.