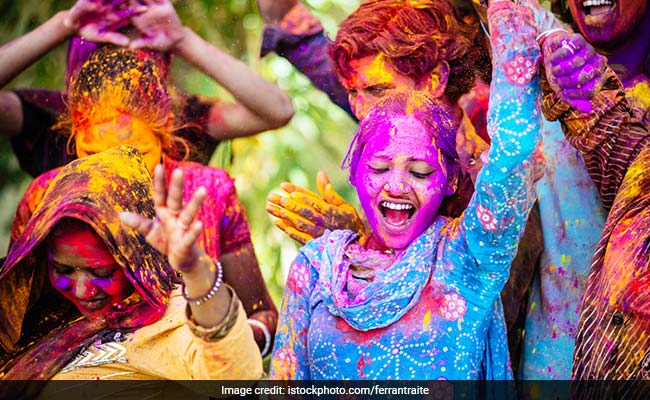 The festival of colours is finally here and the festive vibe is for all to see. Holi is one of the most widely celebrated festivals across the country. Like every festival in India, several myths, legends and folklore are associated with Holi too. Playing with colours, water guns, and indulging in Holi special treats, is what most of us associate with Holi celebrations. However, did you know that your most beloved festival is celebrated in multiple ways across the country? Several regions and towns have their own local take on Holi. Here's a glimpse of few:
1. Lath Maar Holi of Barsana
In regions of Mathura and Nandagaon, Holi celebrations begin a week in advance. In addition to the play of colours and binging on traditional sweetmeats, the Holi of Mathura has another very unique ritual called the Lath Maar Holi. The tradition takes on from the Holi of lord Krishna's time. Men (symbolic of Gopas) from Nandgaon come to play Holi with the women of Mathura (Barsana Village) with colours and a shield. Yes you heard us, a shield, this is because women (symbolic of Gopis) chase these men away with sticks or Lath. Thandai, gujiyas, bhang, puri sabzi, chaat, lassi and malpuas are an essential part of Holi of Uttar Pradesh. There are several other greasy foods that are commonly consumed on Holi in Mathura and all of them are strictly vegetarian.
(Also Read: Holi 2018: A Fully Prepared Holi Lunch Menu For A Memorable Holi Party)
2. Dol Jatra of Bengal
West Bengal's folk culture dominates Holi celebrations in the region. Celebrated as Basant Utsav and Dol Jatra, Holi in Bengal is more of a celebration of spring and the eternal romance of Radha and Krishna. Basant translates to spring and Utsav is festival in Bengali. On this special occasion, women dress up in vibrant hues of yellow. In Shantiniketan, Bolpur, people gather and witness the rich art and culture of Bengal. Skilled artisans display their work of art while performers sing and dance to traditional Bengali tunes. Students of Shantiniketan recite Tagore's poetry. Dol Jatra is the ritualistic festival of swings. Idols of Krishna and Radha are placed on the swings and worshipped. Smeared in abir (colours), people also take on the swings and have a jolly good time with their friends and family. Bengali delicacies like jilipi, payesha and sandesh are a hit during Dol celebrations.
(Also Read: 10 Best Holi Recipes)
3. Hola Mohalla of Punjab
The land of mighty warriors, Punjab observes a unique tradition of Hola Mohalla a day after Holi. Men of Sikh community display their physical agility, stamina and endurance through their special martial arts form. Men challenging each other in sports like wrestling and sword fighting are also a common feature of Hola Mohalla. The tradition of setting up community kitchens to feed people during Hola Mohalla is also something that has been an integral part of the carnival since 16th century.
4.Kaman Pandigai of Tamil Nadu
In Tamil Nadu, the Holi rituals celebrate the legend of Kamadeva. The sacrifice of Kamadeva or the God of love and passion makes for a significant episode in Hindu mythology. After the demise of his beloved wife Sati, Lord Shiva renounced all worldly pleasures and went back to deep meditation and Tapasya. During his deep meditation, he ceased to look into the matters of the world and the devils found a way to cause chaos all around with their evil schemes and exploitation. The Gods then turned to God Kamdeva and his wife Rati for help. God Kamadev tried to break Shiva's meditation by shooting flower arrow to his direction. An angered Shiva opens his third eye and burns Kamadeva into ashes for distracting him from his deep meditation. On knowing his noble motives and Rati's pleading, Shiva says that Kamadeva would be reincarnated as Krishna's son Pradyumna. Holi in some parts of Tamil Nadu is known by three names: Kamavilas, Kaman Pandigai and Kama-Dahanam, all of them dedicated after God Kamadeva. People sing songs on Holi grieving Rati's extreme sorrow and offer sandalwood to Kamadeva. Sandalwood is an age old Indian remedy to treat wounds and burns.


5. Manjal Kuli of Kerala and Parts of Konkan Coast
In Kerala and some parts of Konkan coast, Holi is celebrated as Ukkuli in Konkani or Manjal Kuli in Malayalam. It is celebrated around the Konkani temple, Gosripuram Thirumala temple. Instead of colours, people throw turmeric at each other. Turmeric enjoys a sort of devotional distinction in Hindu tradition. Turmeric is good for health, skin and is also an excellent antiseptic. The festival is especially important for Kudumbi community who smear themselves in bright yellow turmeric powder and water and dance to some traditional Malyali tunes.
Here's wishing you all a very Happy Holi!