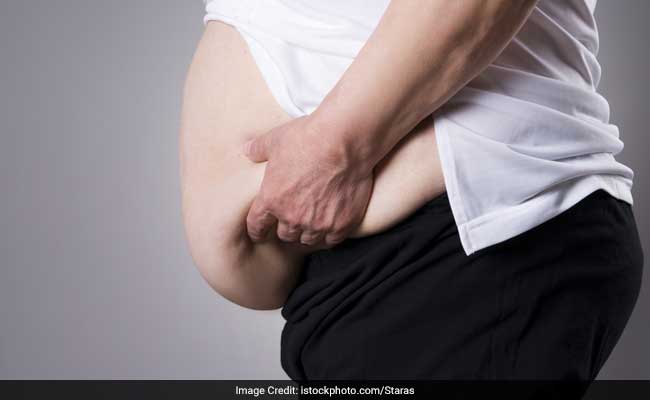 Highlights
Excess belly fat in elderly could now be linked to inflammation
When they need to expend energy, older people do not burn the energy
A proper diet can help in reducing inflammation in the body
Excess belly fat in elderly could now be linked to inflammation, according to a study published in the journal Nature. Older adults, regardless of their body weight, have increased belly fat. However, when they need to expend energy, older people do not burn the energy stored in fat cells as efficiently as younger adults, leading to the accumulation of a stubborn and harmful belly fat. The researchers have discovered a new type of specialised immune cells known as macrophages, which reside on the nerves in the belly fat.
"We discovered that the aged macrophages can break down the neurotransmitters called catecholamines, and thus do not allow fat cells to supply the fuel when demand arises," said lead author Vishwa Deep Dixit, Professor at Yale University in Connecticut, US. "The key finding is that the immune cells talk to the nervous system to control metabolism," Dixit noted.
A proper diet can help in reducing inflammation in the body; therefore, we list down some anti-inflammatory foods that you should include in your daily diet.
1. Turmeric
Turmeric is a wonderful spice that is considered as a powerful anti-inflammatory ingredient. Curcumin, an active compound found in turmeric helps in reducing inflammation naturally. It has also been found that it is helpful in treating arthritis, IBS, inflammatory bowel diseases and even asthma.
2. Walnuts and Almonds
Walnuts are excellent sources of anti-inflammatory omega-3 fatty acids. Certain enzymes present in walnuts inhibit production of neurotransmitters that cause pain and swelling. You can also dote on almonds that are believed to have more anti0inflammatory vitamin E than other tree nuts.
3. Basil
The volatile oils in basil contain a compound called eugenol that has strong anti-inflammatory properties. As an antioxidant, basil can protect your DNA from radiation and oxidative damage.
4. Flaxseeds
Include more flaxseeds in your diet as they are packed with omega-3 fatty acids. Anti-inflammatory compounds like lignans and flavonoids found in the seeds make them super nutritious.
5. Green Tea
Green tea is known to be a great antioxidant. The high amounts of catechin polyphenols that green tea contains make it a powerful antioxidant. It is rich in anti-inflammatory flavonoids that prevent free radicals from causing damage.
With Inputs from IANS