Navratri 2018 is coming to an end and people are looking forward to celebrate Dussehra 2018 or Vijayadashmi on 19th October, which marks the conclusion of Navratri and Durga Puja, 2018. Dussehra is one of the most widely celebrated festivals across the country. It is tied to the epic battle between Lord Ram and Ravana in Ramayana. It is after 21 days of Dussehra, people celebrate Diwali, in order to commemorate Lord Ram's homecoming after his victory over the despicable king of Lanka, Ravana. Vijayadashmi marks the end of festivities and revelry; which means, on this day, people bid goodbye to Goddess Durga, who is known to return to the heavens. People celebrate Dussehra differently in different regions. What remains same is the love for celebrating the festival with sweets. People in the North region generally observe this day with amazing sweets like jalebi and gulgule. We tell you sweets that you can have during the festival.
Dussehra 2018: Vijayadashmi, Puja Timings and Tithi
This year Dasara and Vijayadashmi would be celebrated on Friday, 19th October 2018.
Vijay Muhurat = 1:58 pm to 14:43 pm
Aparahna Puja Time = 1:13 pm to 15:28 pm
Dashami Tithi Begins = 15:28 on 18/Oct/2018
Dashami Tithi Ends = 17:57 on 19/Oct/2018 (Source Drikpanchang.com)
Dussehra 2018: Sweets you can enjoy during Dussehra
1. Jalebi
It is believed that Lord Ram loved a sweet known as shashkuli- a modern day jalebi. Most people love celebrating this day by eating hot jalebis to commemorate Lord Ram's victory over Ravana. If you wish to make some jalebis in the comforts of your kitchen, here's a recipe to try.
2. Malpua
Malpua is an Indian pancake widely prepared in North India and South India. It is generally made using maida, semolina or sooji, milk, and yogurt. It is then cooked in hot oil and dipped in sugar syrup to perfection. Here's a delicious recipe of malpua that you can try at home.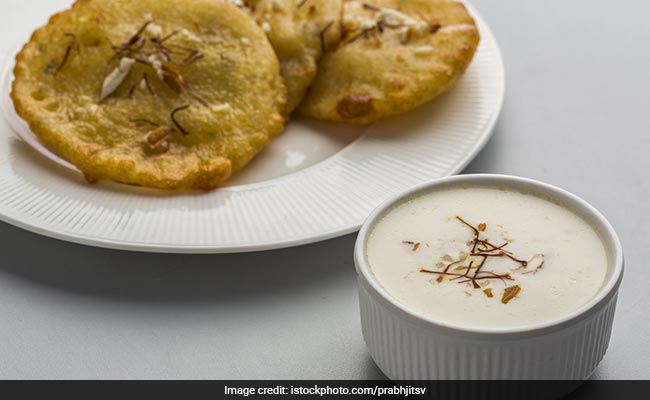 Dussehra 2018: Malpua is an Indian pancake widely prepared in North India and South India
3. Meetha Pua (Gulgule)
This round-sized delight is prepared using a thick batter of atta, saunf, gur or sugar, and ghee and is deep fried to perfection. Enjoy gulgule on the special occasion of Dasara.
4. Nariyal ki Barfi
A sweet and chewy treat made with fresh desiccated coconut and khoya. Nariyal ki barfi is one of the easiest Dussehra sweets to make and it requires very few and common ingredients. Here's an amazing recipe.
5. Besan Laddoo
Besan laddoos are one of the most commonly prepared sweets, especially during Dussehra. So go ahead and prepare some at home for your loved ones. Here's a simple recipe of besan laddoo.
Happy Dussehra 2018!
Get Breaking news, live coverage, and Latest News from India and around the world on NDTV.com. Catch all the Live TV action on NDTV 24x7 and NDTV India. Like us on Facebook or follow us on Twitter and Instagram for latest news and live news updates.