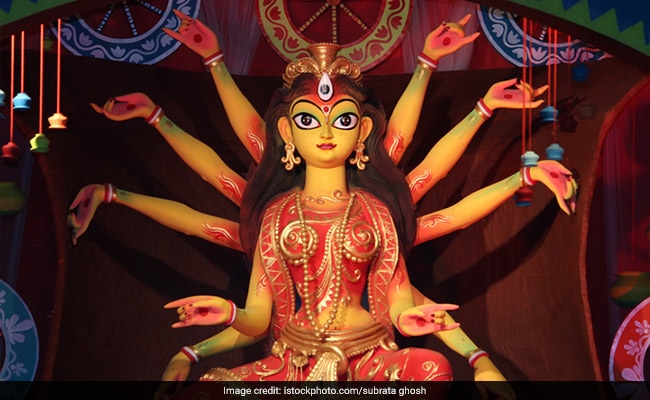 Aren't you loving the festive vibe that has taken over the country again? So are we. The country celebrated Navratri 2018 with much fervour and enthusiasm. This year Navratri celebrations concluded on 18th October, that is on Navami. It is followed with Dussehra or Vijayadashmi that falls on 19th October, that is today. India being the land of festivals celebrates the occasion in different ways in different parts of the country. Each festival has its own significance. While some associate the festival with the epic battle of Ramayana that ended today with the killing of Ravana by Lord Rama, some celebrate it to commemorate the victory of Goddess Durga over buffalo demon Mahishasura. Read to know what makes the festival so special for the entire country.
(Also Read: Navratri 2018: 3 Fasting Recipes From Gujarat For A Delicious Navratri)

Dussehra 2018: When is Dussehra and Vijayadashmi, Puja Timings and Tithi
This year Dasara and Vijayadashmi would be celebrated today on Friday, 19th October 2018.

Vijay Muhurat = 1:58 pm to 14:43 pm
Aparahna Puja Time = 1:13 pm to 15:28 pm
Dashami Tithi Begins = 15:28 on 18/Oct/2018
Dashami Tithi Ends = 17:57 on 19/Oct/2018 (Source Drikpanchang.com)
Dussehra Significance: How is Dussehra or Vijayadashmi Celebrated
Dussehra is one of the most widely celebrated festivals across the country. As mentioned earlier, several regions have their own local take on the festival. In North and some parts of South India , the festival is tied to the epic battle between Lord Rama and the ten-headed Ravana. Ravana had abducted Rama's wife Sita and taken him to his kingdom in Sri Lanka. Lord Rama with his army of monkeys traveled to Lanka and defeated the mighty Ravana and his allies in son Meghnad and brother Kumbhakarna in his home. Enormous effigies of Ravana, are burnt along with that of his brothers Meghanada and Kumbakaran in the northern and southern part of the country as part of Dussehra celebrations. Ram Lilas are also a significant part of Dussehra celebrations. Days before Dasara, people gather in Ram lila Maidans to see skits, plays and musicals revolving around some memorable episodes from Ramayana.
(Also Read: 9 Navratri Colours And Foods For All Days Of Sharad Navratri 2018)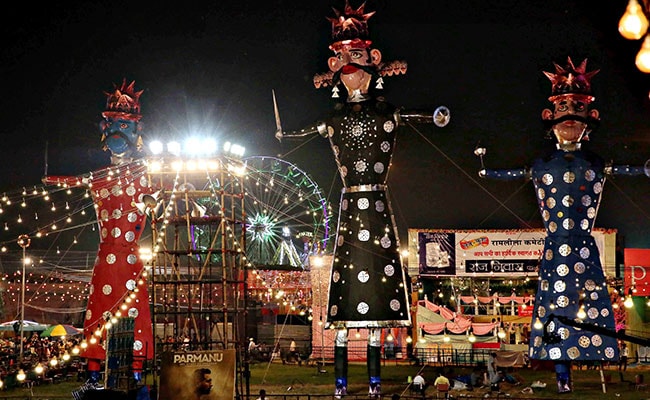 Other very major celebration that coincides with Dussehra is that of Durga Puja. Vijay Dashmi marks the end of the festivities and revelry. According to legends, Goddess Durga was entrusted with the task of defeated buffalo demon Mahishasura. Mahishasura's demonic activities had disrupted the daily livelihoods of many on earth. The ten-armed goddess defeated Mahishasura in an epic battle that ran for days. Durga Puja is no less than a carnival for Bengalis. Maa Durga is considered as earth's daughter, according to scriptures. Durga Puja is meant to celebrate the Goddess' journey to her maternal home. The day of Vijay Dashmi, marks Goddess' return to the heavens. Women bid a teary goodbye to the Goddess with lots of sweets, sindoor and betel leaf as part of offerings. One of the most popular features of this day is the Shindur Khela, where married women smear vermilion on each other after making offerings to the goddess. The idol is then taken to a water body for immersion. In the evening people gather again to wish each other Shubho Bijoya (Happy Victory) and have one last festive meal together.
(Also Read: Durga Puja 2018: Date, Time, Significance And Celebrations)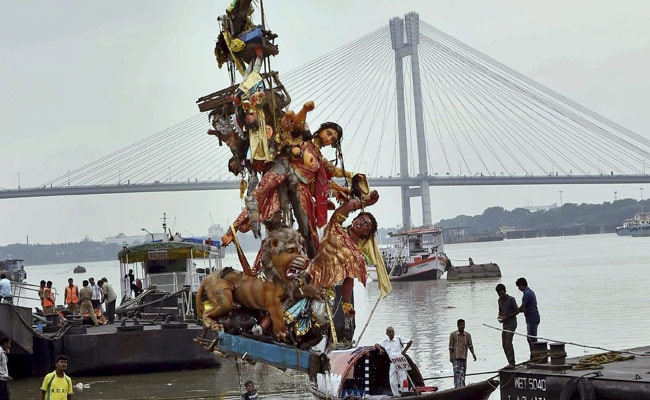 In Mysore, the festival is celebrated as Mysuru Dasara, people celebrate Goddess Chamundeswari, another avatar of Goddess Durga, as the vanquisher of Mahishasura.
The Mysore palace is beautifully illuminated, with 1,00,000 bulbs and a procession travels through the city, with the idol of Goddess Chamundeshwari perched atop an elephant.

The folks and legends may differ drastically from each other, but the ethos of Dussehra or Vijay Dashmi is the same. In the end, good will triumph over evil. And peace would be restored after great chaos and destruction. On the auspicious day, people pray for their prosperity and health.
Here's wishing you all a very Happy Dussehra!