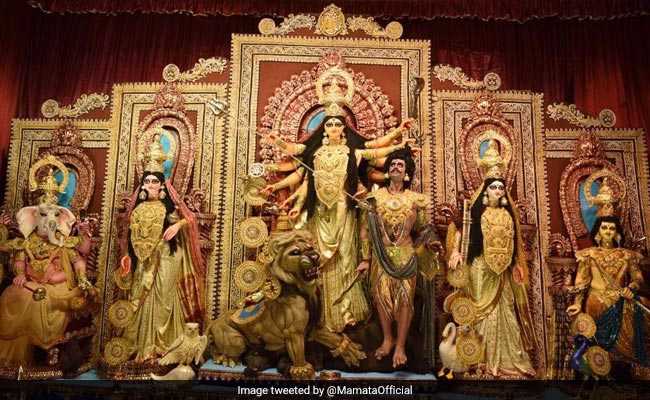 Durga Puja is just around the corner. These five days of festivities are a significant part of every Bengali in any part of the world. This is why beyond Bengal too, one can see several Bengali settlements celebrating puja with equal enthusiasm and fervour even in the most remote corners of the country. This year Durga puja celebrations would kick-start on 14th October (Panchami) and would go on till 19th October (Vijay Dashami). Durga Puja, as the name suggests, is celebrated in honour of Goddess Durga. According to legends, when all the male Gods were unable to defeat the buffalo demon Mahishasura, they entrusted Goddess Durga with the task of putting an end to his evil doings on earth. In a gory battle that ran for several days, Goddess Durga defeated Mahishasura and earned the name of Mahishasura Mardini. Navami falls on 18th October this year.

Durga Puja 2018: When Is Durga Puja?

| Durga Puja Dates | Durga Puja Days |
| --- | --- |
| 14th October 2018 | Panchami |
| 15th October 2018 | Shashti |
| 16th October 2018 | Saptami |
| 17th October 2018 | Ashtami |
| 18th October 2018 | Navami |


Durga Puja 2018: Significance Of Durga Puja


The epic battle of Durga and Mahishasura is symbolic of the ultimate victory of good over evil. The demon king Mahishasura, performed severe austerities and prayers for years to seek Lord Brahma's boon of immortality. Pleased by his devotion, Lord Brahma appeared in front of him and gave him a saying that his death would happen only at the hands of a woman. Hearing the Mahishasura, began thinking he is invincible and immortal. He started killing people and disrupted sages in their meditation. It was then that the role of defeating Mahishasura was assumed by Goddess Durga and incarnation of Goddess Shakti. In her 10 arms, Gods vested their most precious arms. The battle ran for several days until Goddess Durga swerved Mahishasura's head with her trishool(three headed spear).
(Also Read: When Is Navratri 2018 And Navratri Foods You Should Stock Up For The Fasting Period)
Mention Durga Puja and any Bengali would be able to tell you how it is not any festival round the corner, it is nothing short of a carnival. The preparations of Durga Puja begin months in advance. Skilled artisans and craftsmen start making beautiful clay idols of Goddess Durga, Goddess Laxmi, Goddess Saraswati, Lord Ganesha and Lord Kartikey. Then, through the donation collected from neighbourhood, artful pandals are set up where they install the idols. These days, there are special awards for best decorated pandals too. Weeks before the puja, people buy themselves new clothes and jewellery and wear them on puja days. Cultural festivals, music, recitations and several interesting competitions keep the vibe of the pandal ever-so lively. However, our favourite bit about the festival has to be the countless variety of food that you get to gorge on these particular days. From rolls, cutlets, biryanis, burger, chaat, pizza to desserts; Durga puja pandals are a foodie's dream come true.


One unique aspect about Durga Puja is the fact that it is not a household affair but a well-organised community gathering. The tradition dates back to 17th-18th century A.D, when several zamindars and aristocrats would hold lavish pujas bringing together the entire locality under one roof. For instance, the Aatchala Puja in Kolkata, which was started by renowned zamindar Lakshmikanta Majumder in the year 1610, and the Shobha Bazar Choto Rajbari at 33 Raja Nabakrishna Road in Kolkata, which was initiated in the year 1757. A puja pandal became a place where all social and class barriers were broken and everybody reveled in the celebrations together. Till date, the special khichdi and vegetable bhog that is served during lunch time is prepared for around 800-1000 people in an average-sized pujo pandal.

The Durga Puja 2018 concludes on 19th October 2018 with Vijay Dashami.
Here's wishing you all a very Happy Durga Puja 2018!