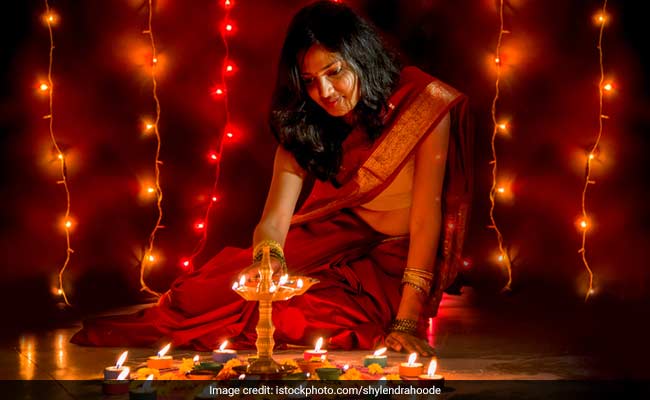 Highlights
Diwali 2018 will be celebrated on 7th November
Diwali is a five-day festival and the third day marks the climax
Food, especially sweets, are central to celebrations of Diwali
Diwali is one of the most important festival celebrated by Hindus all around the world. Diwali 2019 will be celebrated on 27th October in most parts of India. The muhurat or auspicious timing for conducting Lakshmi Pujan this year is between 06:42 PM to 08:12 pm on October 27th, 2019. The festival and its celebrations usually last for five days, among which the third day is the main day. During all the five days of Dhanteras, Chhoti Diwali, Badi Diwali, Govardhan Pooja and Bhai Dooj, houses, temples and public places are all lit up with lights and earthen lamps. The themes of 'victory of good over evil' and 'victory of light over dark' are associated with the festival. The festival falls in the month of Karthik, according to Hindu calendar. According to the Gregorian calendar, the festival falls during the months of either October or November.
Also referred to as the festival of lights or Deepavali, Diwali celebrations have evolved in countless ways over the years. It is considered auspicious to buy new goods during the days preceding Diwali. Hindus are busy cleaning and renovating their houses and repairing furniture. People also paint their houses and rooms in new colours and purchase new home appliances, clothes and other things in the run up to Diwali. The third day of the five-day festival marks its climax and is a public holiday in the Indian subcontinent.
Also Read: 10 Quick Diwali Sweets Recipes
Diwali 2019 Dates in India & Calendar
| Diwali 2019 Dates | Diwali Festival |
| --- | --- |
| Dhanteras 2019 | 25th October 2019 |
| Chhoti Diwali/Narak Chaturdashi 2019 | 26th October 2019 |
| Badi Diwali/ Lakshmi Pujan 2019 | 27th October 2019 |
| Govardhan Puja 2019 | 28th October 2019 |
| Bhai Duj/Bhau Beej 2019 | 29th October 2019 |
Importance Of Diwali
Diwali is a word that has been derived from the Sanskrit word Deepavali, which means a "row or a string of lights". The word is a conjugation of "deepa" or an earthen lamp and "vali" or a continuous row or series of something. The festival falls during the beginning of autumn and at the end of summer harvest. Diwali coincides with the darkest day of the year, also known as Amavasya. This day is the darkest of Hindu lunisolar calendar. Although the festival has been known as a predominantly Hindu festival, it's also celebrated by Jains, Sikhs and Newar Buddhists. However, the day marks different historical events and stories for all these religions.
Also Read: Dhanteras 2018: Date, Puja Timings, Significance And Celebrations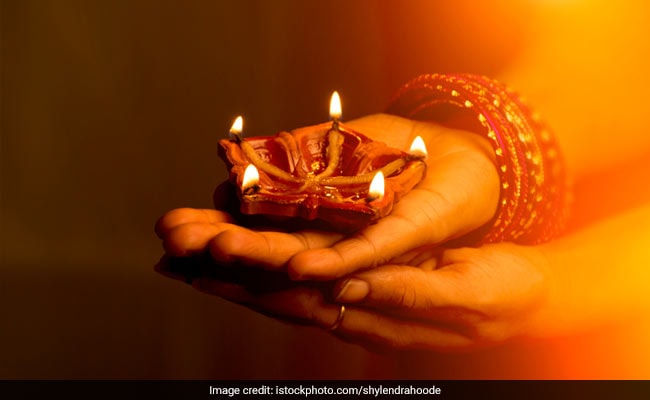 Diwali 2018: Diwali coincides with the darkest day of the year, also known as Amavasya
The significance of Diwali varies regionally within India, with people worshipping different deities on the day and following different traditions. One of the most well-known traditions of Diwali is associated with the Hindu epic of Ramayana. This tradition celebrates the victory of the King of Ayodhya, Ram, over the demon king Ravana of the kingdom of Lanka. Diwali is the day when Ram, Sita, Lakshman and Hanuman, returned to Ayodhya, after a period of 14 years of exile. Legend has it that the kingdom had lit up with lamps, with people rejoicing and celebrating the return of the righteous heir to the throne.
(Also Read: 5 South Indian Diwali Delicacies You Must Try This Year)
Here are the dates for all the five days of Diwali 2019 and a day-wise significance:
1. Dhanteras 2019: Dhanteras will be celebrated on October 25th, 2019 this year. This is the day that most people go out to buy new things like utensils, gold coins and jewellery. Houses and offices are cleaned and decorated with earthen lamps and artificial lights.
2. Chhoti Diwali 2019: This day is also known as Narak Chaturdashi, but is commonly known as chhoti Diwali. Falling on October 26th 2019 this year, this is a major day for purchasing sweets made from various ingredients for guests, friends and family. Halwais or sweetmeat makers work over time to meet the increased demand for sweets like laddos, halwas and more, during the run up to this day. Families are also busy preparing homemade delicacies for the guests who visit on the main day of the festival, that is, Diwali.
3. Diwali 2019: This is the main day during the five-day festival and is also known as the day of Lakshmi Pujan. This is because Goddess Lakshmi, who is the Goddess of wealth and prosperity, is worshipped on this day. The muhurat or auspicious timing for conducting Lakshmi Pujan this year is between 5.57 pm and 7.53 pm on October 27th, 2019. During this time, the family gets together and recite prayers and sing holy songs in unison. After the conclusion of the prayers, everyone takes blessings from the holy flame and indulges in sweets. This is the time to meet and greet with friends, family and relatives and exchange gifts and sweets.
Diwali 2019: The main day during the five-day festival and is also known as the day of Lakshmi Pujan
4. Govardhan Puja 201: This is the day right after Diwali and this year it will be celebrated on october 28th, 2019. This day celebrates the unique bond between husband and wife and in some Indian regions, this is the day when husbands give gifts to their wives. In yet other regions, parents invite their newly married sons or daughters along with their spouses to a family meal and bless the couple with gifts.
5. Bhai Duj 2019: Bhaiya Duj or Bhau Beej is the last day of the five-day festival and this year, it will be celebrated on October 29th, 2019. This day celebrates the bond between brothers and sisters. On this day, the brother travels to his sister's house and the 'tilak' ritual involves the sister decorating her brother's forehead with a round of vermillion. The day is similar in spirit with another Hindu festival of Rakshabandhan.
Diwali 2019: Special Foods and Sweets
Diwali is a festival of indulgence and it's hard to resist the wide variety of sweets and delicacies that flood the markets, around this time. It's customary to keep a plateful of dry fruits, nuts and some sweets ready for when guests come home and offer the same to them. Food is central to Diwali celebrations and people start preparing to make a number of sweets and savouries to serve to their guests on Diwali evening. Along with bursting of crackers and exchanging sweets, eating mithais made in pure desi ghee and mava is an indelible part of Diwali.
Also Read: 8 Easy Diwali Recipes to Impress Your Guests and Relatives
Diwali 2019: Sweets are central to celebration of the festival
The kind of traditional sweet and savoury foods cooked during Diwali varies from region to region. But what doesn't change in Diwali feasts across the country is the level of richness in all the foods on offer.
Happy Diwali 2019!