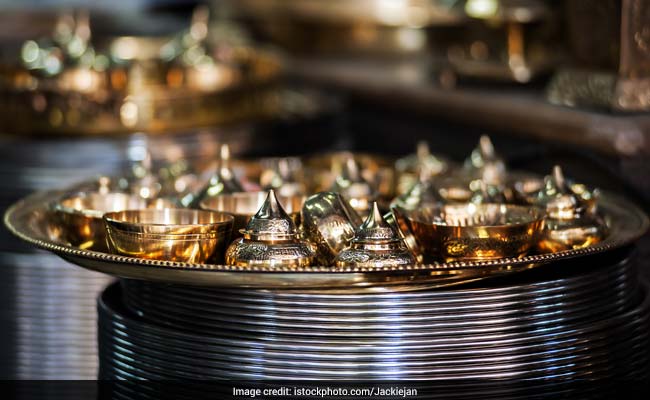 The season of festivities is here in its full swing and while we are finding it a bit hard to keep up with so many of them, we are in no mood to complain just as yet. Soon after the Navratri and Durga Puja celebrations, the nation has started gearing up for Diwali celebrations. This year Diwali falls on the 27th October, 2019. The festival of lights is succeeded and preceded by many small festivals. Starting with Dhanteras (or Dhanatrayodashi​), followed by Choti Diwali, Diwali, Govardhan Puja and finally Bhai Dooj, these few festive days are celebrated with much fervour across the country. Needless to say, every region has its own local way of bringing in these festivals. Also known as Dhantrayadashi, Dhanteras is celebrated in the month of Kartik on the thirteenth day of Kartika Krishna Paksha. On this auspicious day, devotees worship Goddess of wealth Laxmi and Lord Kuber. There is a unique tradition of buying gold, silver or new utensils on this day. It is said, whatever is bought in this auspicious day brings much luck to the family.
(Also Read: Diwali 2019: When Is Diwali, Date, Puja Time, Significance And Foods To Celebrate)
Dhanteras 2019 Puja Time:

Dhanteras Puja on Friday, October 25, 2019
Dhanteras Puja Muhurat - 07:08 PM to 08:15 PM
Duration - 01 Hour 07 Mins
Yama Deepam on Saturday, October 26, 2019
Pradosh Kaal - 05:42 PM to 08:15 PM
Vrishabha Kaal - 06:50 PM to 08:45 PM
Trayodashi Tithi Begins - 07:08 PM on Oct 25, 2019
Trayodashi Tithi Ends - 03:46 PM on Oct 26, 2019 (Source drikpanchang.com)
According to Drikpanchang, Dhanteras puja should be done during the pradosh kaal, which starts after sunset and lasts for two hours and 24 minutes. Sthir lagna is considered to be the best time to start the puja on Dhanteras. The word 'sthir' means immovable or fixed. It is believed that during this auspicious period, Goddess Lakshmi resides inside the home, thus making it the most suitable time for Dhanteras puja.

Significance Of Dhanteras : Why Do People Buy Jewellery Or Utensils On Dhanteras?

Hindus around the country start cleaning their houses much before the Diwali celebrations and by Dhanteras they ensure, no corner is left unclean. This is the day they welcome Goddess Laxmi to take shelter in their home. "Dhan" in Sanskrit means wealth. Dhanteras is considered as an extremely auspicious day to make new purchases, especially gold or silver articles and new utensils. It is believed that new "Dhan" (wealth) or some form of precious metal signifies good luck and new purchase is said to ensure the inflow of both wealth and luck throughout the year. Nowadays, making any major purchase such as automobile or TV, refrigerator is considered to be lucky on Dhanteras. This is why all major stores and outlets have so many lucrative discounts on Dhanteras.

There are many legends and folklores associated with the ritual of buying new utensils and jewellery. According to one folklore, King Hima's daughter-in-law saved his son from the god of death Yamraj (who appeared in the form of a snake). She prevented him from entering the room by placing a heap of gold jewellery and silver coins along with lots of diyas at the door. The glittering jewellery and the bright diyas blinded him and he returned without the King's son who was destined to die on the fourth day of his marriage. The act of buying gold and silver jewellery or new utensils is said to protect you against ill luck and is said to be the harbinger of prosperity.

You must avoid buying plastic and glass as they are believed to bring bad luck.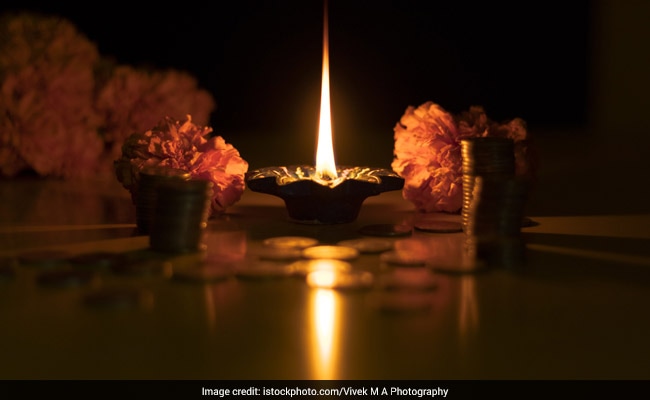 Naivedya Prasad On Dhanteras (Dhanatrayodashi​)

On this day, people worship Goddess Laxmi and Lord Kuber by singing bhajans or devotional songs. In Maharashtra, Naivedya of traditional sweets is offered to the Goddess. There is a popular Maharashtrian custom, wherein women of the house lightly pound dry coriander seeds with jaggery and offer the mixture as Naivedya.


Happy Dhanteras 2019!