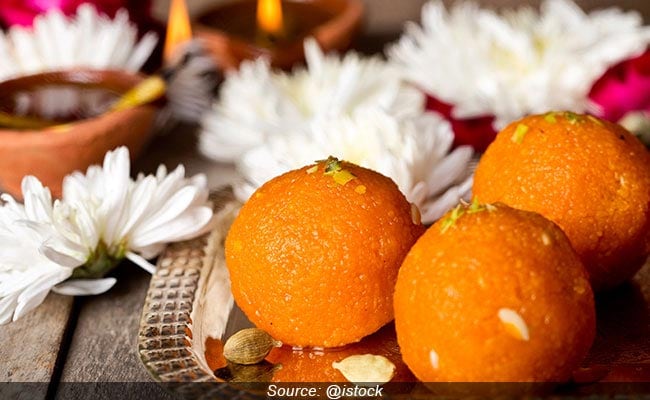 Highlights
Diwali 2020 will be celebrated on 14th November 2020
Diwali sweets suffer from rampant adulteration
Mawa, milk, ghee are some commonly adulterated ingredients in sweets
Diwali 2020 is all about the sweets, which are bought in bulk by excited and eager buyers who send boxes full of sugary goodness to all their friends, families and relatives. Houses and markets have started overflowing with Diwali mithais and sweetmeats that are indispensable for any and every celebration during this festival. Deepavali brings with it many opportunities to bond with your close ones, over food and conversation. However, things may go the other way if you consume sweets that are adulterated with foreign elements, chemicals and toxic adulterants. A number of ingredients in Diwali sweets, by virtue of being made with milk and other dairy products, can be adulterated with detergents, white powders and even heavy metals and harmful minerals. Although it's important to indulge, it is also crucial to be wary of certain sweets in particular, especially if you are suffering from a chronic or long term disease, which may be aggravated by the consumption of these adulterants. This is why we have compiled a list of Diwali sweets which unfortunately tend to be laced with harmful adulterants.
Also Read: Diwali 2020: Date, Time, Significance Of Deepavali Puja And Festive Recipes To Try
Here are 7 Diwali sweets that you must be wary of, due to the problem of adulteration:
One of the most popular sweets sold around Diwali is the kaju katli, which contains cashews, milk, ghee, sugar, saffron and other ingredients. During Diwali, there is rampant adulteration of ghee, milk and mawa, all of which this sweet contains. You can also make this at home and save yourself from the adverse effects of adulteration.Click here for the recipe.
Also Read: Diwali 2020: 4 Simple Tests To Check If Your Silver Leaves Or Chandi Varq Is Pure Or Adulterated
Milk cake, also known as kalakand, is very popular during Diwali and is generally sold in sweet shops across North and central India. It contains paneer as well as milk, which is also one of the most rampantly adulterated ingredients during Diwali. Better still, make this sweet dish at home and stay healthy this Diwali. Click here for the recipe.
Diwali 2020: Certain mithais made from milk may contain adulterants
For similar reasons, as for the milk cake, chances of paneer barfi with laced with potentially dangerous adulterants are very high. It may have excessive corn starch mixed in it, which may trigger an allergy or impede digestion when consumed. Make sure you make this dish at home and avoid such problems. Click here for the recipe.
Also Read: Diwali 2020: 5 Ayurvedic Recipes You Can Enjoy And Make Your Diwali Healthy
Kaji pista roll is often the most deceivingly adulterated sweets during Diwali. You may reach out for it, from among all the options, thinking that it is probably healthier than the rest. However, a number of sweet sellers replace real pistachios and cashew nuts with artificial flavours, as these nuts are expensive and drive the cost of raw materials up. Click here for the recipe.
That motichoor ladoo in your kid's hands may be made from adulterated Vanaspati ghee or may contain artificial colours. These ladoos are available in many different colours, which, if they are, may cause gastric troubles and a number of other health problems. Making motichoor ladoo at home is extremely easy, so wear your chef's hat and show off your culinary skills to your friends and family. Click here for the recipe.
Also Read: Diwali 2020: 5 South Indian Diwali Delicacies You Must Try This Year
Khoya and mawa are widely used in mithais during Diwali, which is why sellers mix it with semolina, powdery flour, starch and even detergents, to make it cheaper and make a larger profit. Khoya barfi, then, is one of the most obvious suspects when it comes to adulterated sweets during Diwali. Click here for the recipe.
Rounded and soft mawa pedas are difficult to resist, but for reasons similar to the ones stated above, it is also one of the most adulterated sweets sold during Diwali. So without further ado, make this amazing traditional sweet dish in your own kitchen and save yourself from eating adulterated food. Click here for the recipe.
One of the best ways to save your family and friends from adulterated sweets is to only rely on home-made sweets, made from ingredients sourced from trustworthy dairies and vendors. But if you must, try and buy Diwali sweets from brands and stores that are known for their quality and have a certified stamp of purity.
Happy Diwali 2020!