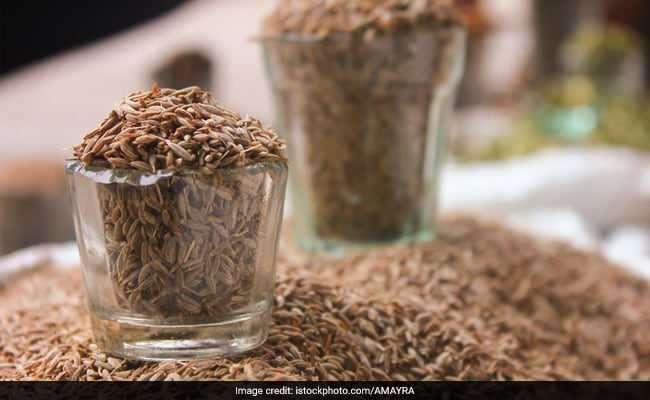 Cumin, also known as jeera in Hindi, is a kitchen commoner. It is an integral part of a majority of our curries and stews. Not just in Indian sub-continent, but across Asia, jeera is a spice widely used in a variety of preparations, be it appetisers or mains. It is basically a dried seed of the herb Cuminum cyminum, and is typically brown in colour. Jeera is added to a number of dishes to provide flavour to them and enhance their nutritional profile. The spice is a fixture in the Indian pantry and is very easily available at grocery stores around the world. The black variant is called black cumin. It has a distinct aroma, and a woody flavour that is quite unique. But did you know that other than enhancing the taste of our food, cumin is also known for its various health benefits? Yes, that's right!
According to the book, 'Healing Foods' by DK publishing House, "Cumin is rich in anti-inflammatory antioxidants, and is also known to be antibacterial and antiseptic. It can solve a host of your tummy woes, fortify digestive tract, relieve nausea, and bloating and constipation." Other than this, cumin is also known to be great for diabetes. As per the book, 'Healing Spice' by Bharat B. Aggarwal, Ph D with Debora Yost, " In a study from India, scientists treated laboratory animals with type-2 diabetes with either cumin or glibenclamide (Diabeta), an anti-diabetes drug. They found that both worked equally well to reduce levels of cholesterol and triglyceride (heart-damaging blood fats common in people with diabetes). The animals also had a "significant reduction" in blood sugar, lower levels of A1C (the amount of glucose attached to red blood cells, a measure of long-term blood sugar levels), and lower levels of damaging fat and inflammation in the cells of the pancreas (the organ that manufactures insulin, which is the hormone that controls blood sugar levels)."
(Also Read: 7 Benefits of Cumin You Must Know)
The best way to consume jeera is to mix it with water. Cumin water stimulates the insulin production in the body, which helps keep the blood sugar levels in check. According to Ayurveda Expert, Dr. Ashutosh Gautam, "Jeera water is good for patients suffering from diabetes. You can drink it on an empty stomach to reduce blood sugar levels." Better still; consume jeera either in whole-seed form or in the form of ground powder. To avoid the adulterated forms of jeera, always go for the organic black cumin seeds.
Also Read: 6 Healthy Drinks For Managing High Blood Pressure Or Hypertension
Make sure you consult a nutritionist or a dietitian before taking jeera or cumin seeds to control diabetes. Stay healthy.
Disclaimer: This content including advice provides generic information only. It is in no way a substitute for qualified medical opinion. Always consult a specialist or your own doctor for more information. NDTV does not claim responsibility for this information.