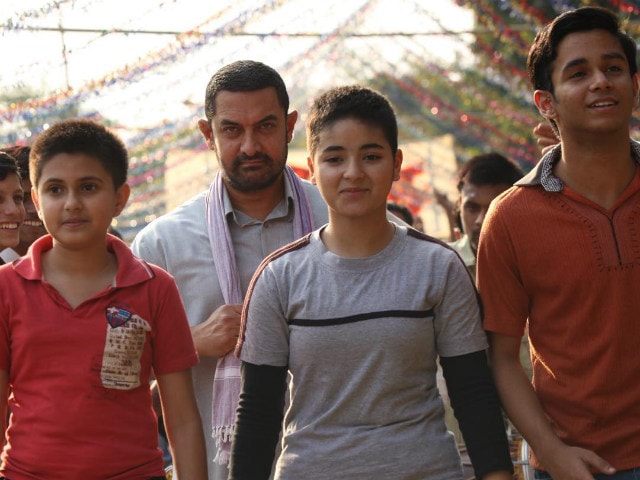 Highlights
'You are certainly a role model for me,' Aamir Khan wrote on Twitter
Zaira deleted her apology three hours after sharing it on Monday
Aamir Khan and Zaira co-starred in Dangal
New Delhi:
Actor Aamir Khan
has responded on Twitter after his young
Dangal
co-star Zaira Wasim posted and then deleted a Facebook apology, apparently after being trolled for meeting Jammu and Kashmir chief minister Mehbooba Mufti. In a statement he posted on his account, the 51-year-old actor said: "Zaira, I want you to know we are all with you. The beauty is that bright, young, talented, hardworking, respectful, caring and courageous kids like you are a role model for kids not only in India but across the world. You are certainly a role model for me." Aamir also appealed to everyone that 16-year-old Zaira, who is a top trend on Twitter today, be left alone.
January 17, 2017
Aamir Khan's tweet is the
latest of several from other Bollywood celebs
. Actress-director Pooja Bhatt wrote: "And now we even consider it our privilege to devour our young? Shame! Zaira Wasim needs to be celebrated not persecuted."
Anupam Kher (who is Kashmiri), Javed Akhtar, Sonu Nigam, Swara Bhaskar and Tanmay Bhat tweeted:
Dear @zairawasim! Ur apology letter is sad but full of courage. It exposes d cowardice of people who made u write it.But u r my #RoleModel. pic.twitter.com/fCF2zlzvzC

- Anupam Kher (@AnupamPkher) January 16, 2017
May God give Sanity to this World. And a Bigger Perspective of Humanity beyond Religion and Patriotism. #ZairaWasim

- Sonu Nigam (@sonunigam) January 16, 2017
Those who shout AZADI from the roof tops don't give an iota of AZADI to others .Poor Zaira Waseem had to apologies for her success Shame !!

- Javed Akhtar (@Javedakhtarjadu) January 16, 2017
To those demanding #Azadi in #Kashmir. U seem fundamentally undemocratic, bigoted n incapable of respecting any1 else's freedom #ZairaWasim

- Swara Bhaskar (@ReallySwara) January 16, 2017
It must take extra courage to go after a 16 year old debutante. @zairawasim, you're awesome and don't let this get to you

- Tanmay Bhat (@thetanmay) January 16, 2017
Wrestler Geeta Phogat, who is played in
Dangal
by Zaira, and politicians Omar Abdullah and Ravi Shankar Prasad also tweeted in favour of the young actress.
Yesterday, Zaira Wasim posted a Facebook note apologising to "people offended or displeased by (her) recent actions or the people (she) recently met." She also wrote that she didn't want to be a role model.
Zaira later deleted the post
and tweeted saying she was upset that it had been "turned into national news." She deleted the tweet as well.
Zaira Wasim, who is Kashmiri and grew up in Srinagar, met Chief Minister Mehbooba Mufti last Saturday. She was reportedly trolled after the meeting. "When it comes to talent, youngsters from Jammu and Kashmir are next to none and we must celebrate them and not those who post their photos on Facebook with guns in their hands," Ms Mufti said on Monday.
Zaira co-starred with Aamir Khan in Dangal
, playing the younger version of Geeta Phogat. She has also been cast in the actor's next production,
Secret Superstar
.