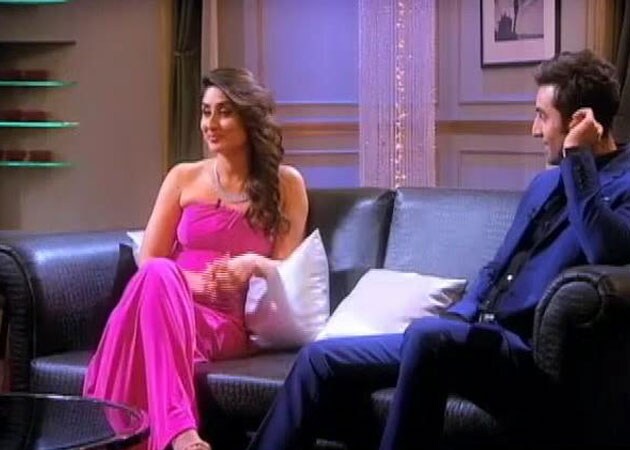 Highlights
It's been a couple of years since Kareena Kapoor grandly declared on national television that she would marry Saif Ali Khan in 2012, leaving her then-boyfriend, future fiance and eventual husband gulping in surprise. Fast forward to December 2013, and Mrs Khan is still superbly indiscreet - a fact that her cousin Ranbir Kapoor discovers to his discomfiture on the new season of Koffee With Karan.
Ranbir, always so guarded about his reported relationship with actress Katrina Kaif, has been well and truly outed by Kareena in the upcoming episode, as the teaser proves. And not just once. In fact, Kareena can't shut up about Katrina.
Kareena gets the balling rolling by asking Ranbir, "Are you in love with Katrina?" A gallant Ranbir replies, "I love Kareena." To which Bebo responds, lightning quick, "Just add a T to it."
And this is just the beginning.
TV host Karan Johar asks Kareena who she would choose if forced at gunpoint to have a gay encounter. Kareena's reply: "I'd be more comfortable with my sister-in-law so I'll say Katrina Kaif." Next to her, a resigned Ranbir puts on his best poker face.
At this point, we have to ask if Kareena's new-found Katrina obsession has less to do with Ranbir's romantic life and more to do with the collective Kapoor love for Karan Johar, the man behind some of the biggest hits starring Kareena (Kabhi Khushie Kabhie Gham) and Ranbir (Wake Up Sid, Yeh Jawani Hai Deewani). Perhaps the two actors are simply returning the favour over a blockbuster Koffee.
Manufactured for TRPs or no, the entertainment for this theoretical wedding has already been taken care of by Kareena. "I hope I get this opportunity to dance to Chikni Chameli and Sheila Ki Jawani," she announces, appropriating two of Katrina's biggest hits in one fell swoop.
And this is when the hitherto-silent (and cringing) Ranbir finally finds his voice: "Free, right?"
Watch video
New Delhi:
It's been a couple of years since Kareena Kapoor grandly declared on national television that she would marry Saif Ali Khan in 2012, leaving her then-boyfriend, future fiance and eventual husband gulping in surprise. Fast forward to December 2013, and Mrs Khan is still superbly indiscreet - a fact that her cousin Ranbir Kapoor discovers to his discomfiture on the new season of
Koffee With Karan
.
Ranbir, always so guarded about his reported relationship with actress Katrina Kaif, has been well and truly outed by Kareena in the upcoming episode, as the teaser proves. And not just once. In fact, Kareena can't shut up about Katrina.
Kareena gets the balling rolling by asking Ranbir, "Are you in love with Katrina?" A gallant Ranbir replies, "I love Kareena." To which Bebo responds, lightning quick, "Just add a T to it."
And this is just the beginning.
TV host Karan Johar asks Kareena who she would choose if forced at gunpoint to have a gay encounter. Kareena's reply: "I'd be more comfortable with my sister-in-law so I'll say Katrina Kaif." Next to her, a resigned Ranbir puts on his best poker face.
At this point, we have to ask if Kareena's new-found Katrina obsession has less to do with Ranbir's romantic life and more to do with the collective Kapoor love for Karan Johar, the man behind some of the biggest hits starring Kareena (
Kabhi Khushie Kabhie Gham
) and Ranbir (
Wake Up Sid, Yeh Jawani Hai Deewani
). Perhaps the two actors are simply returning the favour over a blockbuster Koffee.
Manufactured for TRPs or no, the entertainment for this theoretical wedding has already been taken care of by Kareena. "I hope I get this opportunity to dance to
Chikni Chameli
and
Sheila Ki Jawani
," she announces, appropriating two of Katrina's biggest hits in one fell swoop.
And this is when the hitherto-silent (and cringing) Ranbir finally finds his voice: "Free, right?"
Watch video