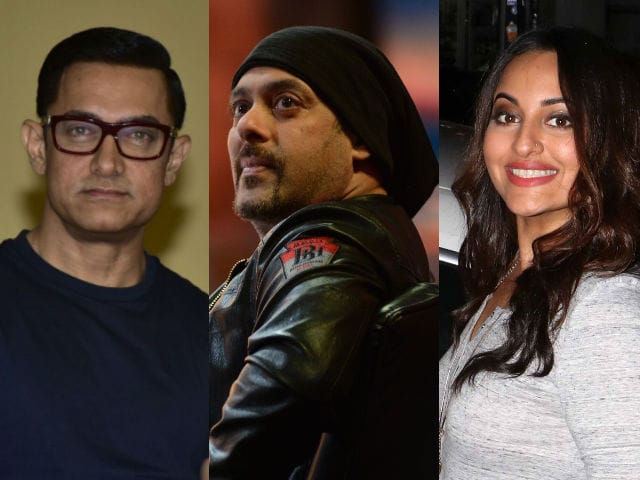 Highlights
Aamir said Salman's comments were 'unfortunate and insensitive'
Sonakshi doesn't think the statement merits the sort of headlines it got
When you're a public figure it (statements) are used against you: Arjun
New Delhi:
Salman Khan's 'like a raped woman' comment, an apology for which is pending, is still being glossed over by Bollywood. The 51-year-old's
Andaz Apna Apna
co-star Aamir Khan is, as of now, the only top star to have
condemned Salman's remark
without qualification.
At the launch of the poster of
Dangal
on Monday, Aamir said, "I wasn't present when he made the comment but going by media reports, I feel what he said was unfortunate and rather insensitive."
Aamir also said he hasn't met Salman since he made the rape comment and, asked if he would offer his colleague advice, told the press, "Who am I to advise?"
His is and perhaps will remain the lone voice critical of Salman Khan who, two weekends ago, said that filming the wrestling scenes of Sultan left him "feeling like a raped woman."
Also on Monday, Salman's
Dabangg
heroine Sonakshi Sinha said she doesn't think the statement merits the
sort of headlines that have been devoted to it
.
"I think too much has been said about it and there's too much focus and attention put on something that should not be garnering so much attention. So I think I'll stay away from it. It should be put aside and the real issues should be addressed," said Sonakshi.
Arjun Kapoor
, once a protege of Salman's, had much to say about why Salman, as a celebrity, can never unsay what he did.
"Let's generalize it for a minute rather than talking about one specific incident. Everybody should be aware of what they are saying. Sometimes you don't intend to, but you say something that gets misconstrued. Or you don't realize you said something wrong. Most people can delete it and it will go away, but when you're a public figure it gets retained and is used against you a lot. But that doesn't define you as a person. That moment doesn't mean that you are like that. That's just a mistake," said Arjun in New Delhi.
Arjun also said that 'the other side' should be heard out before 'jumping to conclusions.'
"Words can't be taken back, so you should be as careful. We need to hear both sides of the story before coming up with conclusions also. So I think somewhere media has become more responsible but I wish they continue getting more and more responsible. I'm not saying to make it a big deal rather to not to jump to conclusions. Always wait for the other person to come up with his or her side of the story also," he said.
Last week, Shah Rukh Khan begged off from offering an opinion saying that since he is so 'inappropriate,' he's not qualified to sit in judgement.
Kangana Ranaut
, among the first actors to have commented on the controversial remark, branded it "a horrible thing to say" but also said that fingers should not be pointed.
Salman Khan responded to a summons from the National Commission of Women last Wednesday with a lawyer's letter which did not contain an apology. He has been summoned again on July 8.
His film
Sultan
, co-starring Anushka Sharma, releases on Wednesday.