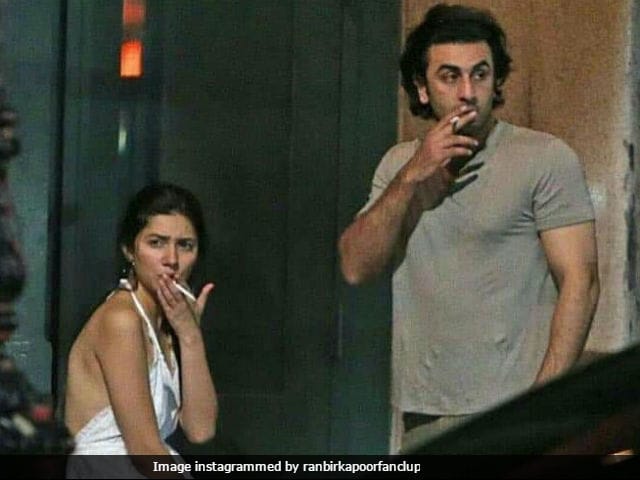 Highlights
In the pictures, Mahira Khan looks lovely in a white dress
Ranbir is seen wearing a grey t-shirt paired with army green pants
Ranbir and Mahira spotted smoking together outside a hotel in New York
New Delhi:
Rumours of
Ranbir Kapoor
dating Pakistani actress Mahira Khan have been doing the rounds ever since the duo were spotted together at the Global Teacher Prize event in March. Now, photos of Ranbir Kapoor and Mahira Khan are going viral on the Internet after they were spotted chilling together outside a hotel in New York. In the pictures, the 32-year-old actress looks lovely in a white dress while Ranbir is seen wearing a grey t-shirt paired with army green pants. The actors are seen smoking as they engaged in a deep conversation. See the pictures posted by the actors' fans on social media here:
The viral pictures of
Ranbir Kapoor
and Mahira Khan smoking on the streets of New York were sure to have multiple reactions. Some Twitter users criticized the actress for smoking and wearing a short dress but many others supported her. One tweet read, "Beyond me how people are shaming Mahira Khan for smoking. I don't get it, why you wanna take away her social life? Her informed decision."
Here are some other reactions to Ranbir and Mahira Khan's pictures.
Beyond me how people are shaming Mahira Khan for smoking. I don't get it, why you wanna take away her social life? Her informed decision.

— Mahesh (@maheshsiva101) September 21, 2017
lmao pakistani men and women are at it again calling mahira khan non-muslim...for smoking

— Bilal (@Sillly_Point) September 21, 2017
So Pakistanis have find a new debate. "mahira Khan" wearing short dress nd smoking.
I still love her @TheMahiraKhan

— Raza Wazir (@wazir23FCB) September 21, 2017
I can't believe that people are actually shaming Mahira Khan on smoking. We are ridiculous.

— Minhal Raza (@Minhal512) September 22, 2017
This generation: Society is so judgmental.

Also them: "mahira khan caught smoking, beghairat, mulk ka naam kharab krti hai"

— Maham Raees (@annoyyyinglady) September 21, 2017
Pictures of Mahira Khan smoking with Ranbir Kapoor turn up on social media.

Desis be like: pic.twitter.com/FuNPBIUnfQ

— MANIK! (@manikhawaja88) September 21, 2017
Here are some negative tweets on the viral pictures
Mahira Khan is so fucking overrated and annoying.

— Bitter (@War_Scented) September 21, 2017
I actually feel sorry for her. She looks lost & misguided. And no one will let her live this one down.Fallen from grace & hard #MahiraKhanpic.twitter.com/7cfEdJ8bRF

— Pebbles Fish (@chintuandbunty) September 21, 2017
mahira khan totally ruined her decent image with this. so disappointed.

— ... (@beinghoor) September 21, 2017
In March, a few videos of Ranbir and Mahira from the Global Teacher Prize event were shared by the 34-year-old actor's fan clubs
. In one of the videos, the duo were seen engaged in a conversation, the Pakistani actress appeared to be pleading with Ranbir for something. Several people assumed that a small tiff had taken place between Mahira and Ranbir.
See the videos here:
Last year, Ranbir Kapoor had a high-profile break-up with actress Katrina Kaif after their seven-year relationship. After that, when the actor appeared on Karan Johar's chat show
Koffee With Karan
, he admitted that he doesn't like being single.
On the work front, Ranbir Kapoor was last seen in Anurag Basu's
Jagga Jasoos
along with Katrina Kaif. He will next feature in the untitled Sanjay Dutt biopic, which is being directed by Rajkumar Hirani.
Mahira Khan made her Bollywood debut with
Raees
, co-starring Shah Rukh Khan. The actress was unable to promote the film in India as the tension between India and Pakistan escalated last year.