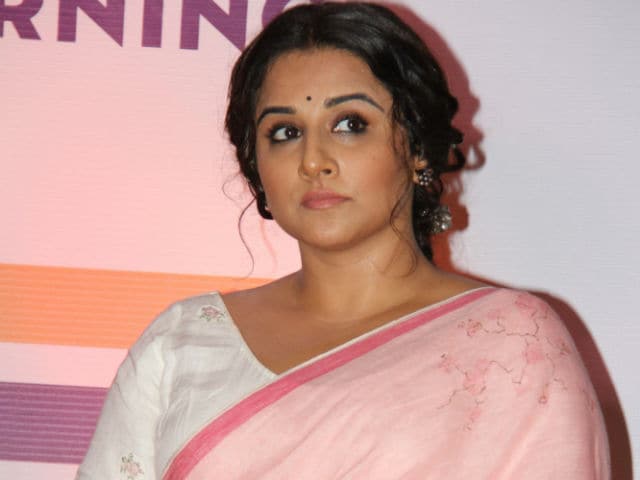 Highlights
'I am bored with this discussion on nepotism,' said Vidya
'The moment I see the word, I am not interested,' Vidya added
'I am seriously bored,' she added
New Delhi:
Actress Vidya Balan has wearied of the blizzard of
headlines on nepotism
(many of us can probably relate). 'With due respect' to everyone who has been primary party to all this talk about whether or not Bollywood plays happy families, Vidya said, "I am bored with this discussion on nepotism. I am seriously bored on who is on which side of the debate these days. I turn the page of the newspaper the moment I see the word, I am not interested," reports news agency IANS. You and the rest of the world, Vidya.
The primary stakeholders in the nepotism debate are actress Kangana Ranaut and director Karan Johar. She called him the 'flag-bearer of nepotism' some months ago, he exacted revenge recently at the IIFA Awards, chanting "Nepotism rocks" with actors Saif Ali Khan and Varun Dhawan. They were promptly criticised for taking an unsubtle jibe at Kangana in her absence - she doesn't attend awards. Varun excused himself soonest with an apologetic tweet;
Karan Johar expressed his regret
in an interview with NDTV.com;
Saif extended the argument by talking airily about 'genetics,' 'eugenics' and 'campism.'
Other nepotism deniers in
Bollywood include actress Anushka Sharma
. Sonam Kapoor helpfully Googled the definition of nepotism and posted it on Twitter (result = trolled). Ranbir Kapoor said that nepotism exists, of course, and he is a product of it. Phew - and those are just the highlights.
Vidya Balan is former model and television actress who crossed over to the big screen with 2005 film
Parineeta
, co-starring Saif. She is the star of acclaimed movies such as
The Dirty Picture
and
Kahaani
. Vidya was speaking at an event for the NGO Heal, which fights sexual abuse of children.
(With inputs from IANS)