Cast: Judi Dench, Ali Fazal, Eddie Izzard, Prince of Wales, Tim Pigott-Smith

Director: Stephen Frears

Rating: 2 stars

Undermined by sweeping superficialities and glaring imperfections, Victoria & Abdul is at best a neatly packaged oddity. Operating primarily in the shallow depths of historical apocrypha, the film looks infinitely better than it actually is. Thanks to the dazzlingly outstanding Judi Dench and her mildly diverting on-screen duet with Bollywood actor Ali Fazal, it sparks to life often enough not to be a complete washout. But, held back by its missteps, it never soars to any great heights.

At one level, Victoria & Abdul - it certainly won't rank among director Stephen Frears' most felicitous ventures - could be regarded as a largely harmless take on the last years of the life of Queen Victoria and her improbable relationship with an Indian footman Abdul Karim, a handsome, strapping young man who all but swept the Empress of her feet. But that is about it. It doesn't probe any of the questions that Abdul's homesick assistant Mohammad Baksh (a wonderful but wasted Adeel Akhtar) raises about the British and their ways as his despair at the lengthening of their stay in England begins to get the better of him, mentally and physically.

By sweeping the excesses of Empire and its worsening fallout in the colony in the final decades of the 19th century under the carpet, the screenplay by Lee Hall (he co-wrote Steven Spielberg's War Horse, besides scripting Billy Elliot) obviates the possibility of Victoria & Abdul evolving into anything more than a mere charming piece of cinematic overreach. The film reveals its hand right at the outset: "Based on true events... mostly," a pre-credits card says.

It doesn't eventually ring true at all because the complexities of history and colonial oppression are beyond Victoria & Abdul, intent as it is on papering over the obviously yawning gap between the 'humanism' of the Queen - which the film is hard-pressed to have us believe - and the appalling conditions of the colonized population back in India - which the script ignores completely to its own detriment.

The drama, derived from Shrabani Basu's fictionalized historical book based on Abdul Karim's journals found more than a hundred years after his death, hinges on the humble Agra prison clerk's growing influence over the Queen. The twenty-something man arrives in the United Kingdom to present Queen Victoria with a ceremonial coin on the occasion of her golden jubilee and quickly becomes a fixture in the royal household to the consternation of her closest aides.


As he fills the Empress of India in with stories about the Taj Mahal, apprises her of the wonders of the cuisine of his land (harping especially on the glories of mango chutney), and cheers her up when she has trouble with her bowel movements, Abdul becomes the Queen's closest confidant and Urdu instructor.
Victoria & Abdul
is an unconventional 'love' story about a septuagenarian Queen and a young man who is neither of her station nor from her culture. She is a grieving queen who is lonely despite being a mother of nine children and she clings to Abdul in search of succour. "Everybody I love dies," she says to Abdul in one of her unguarded moments, of which there are many as the film unfolds.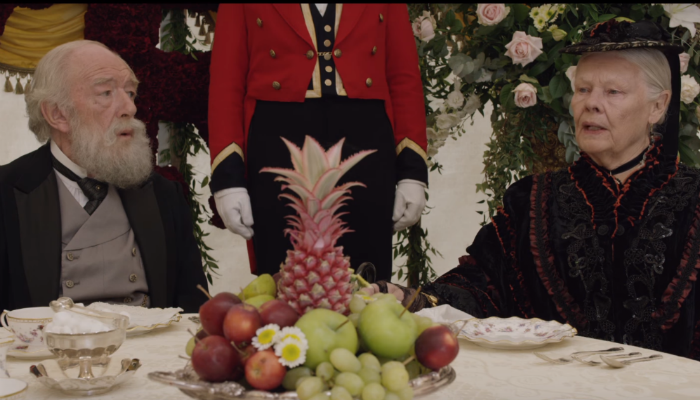 At one end of the spectrum, it is a liaison between a benefactor and a chosen one. At the other, it assumes the form of a teacher-student relationship. Of course, the Queen's possessiveness becomes all too obvious when she learns that Abdul is married. She demands to know why she wasn't told earlier. Abdul asks: What difference does it make? Her reply ("It changes everything") has a hint of poignancy. Yet, when Abdul's wife arrives with her mother, the Queen spares no effort to make them feel at home.

Amid all this, there is growing consternation among her stuffy officials, notably Prime Minister Lord Salisbury (Michael Gambon), private secretary Henry Ponsonby (Tim Pigott-Smith), Baroness Churchill (Olivia Williams), private physician Dr. Reid (Paul Higgins), not to mention her son Bertie, Prince of Wales (Eddie Izzard).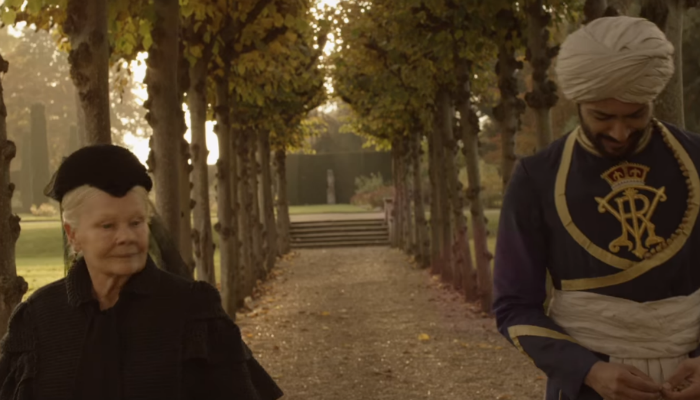 This passable drama might have worked infinitely better had it not fallen so frequently between the facetious and the earnest, erring more on the side of the former. If there is one element in Victoria & Abdul that strikes a chord, it is its subliminal Sufi spirit, heightened by the citing of Jalaluddin Rumi when it is time for the final parting. "Love is the whole thing. We are only pieces," Abdul intones. The Queen repeats the line in Urdu, her voice barely audible. Victoria & Abdul aspires to be a celebration of friendship and love across geographical and cultural divides. If only it had imbibed more from the Rumi treasure trove, it might have risen above its limitations.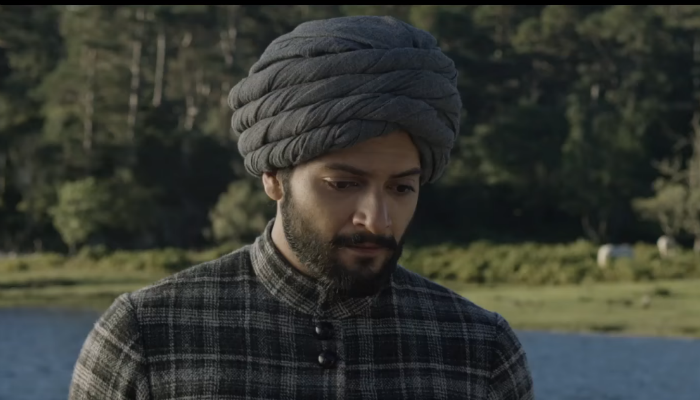 As Queen Victoria, Judi Dench, at once imperious and impish, fills the tale with charm and warmth. Returning to the character of the second longest-serving monarch of the United Kingdom 20 years after she played her in Mrs. Brown (which explored her relationship with a Scottish servant after the death of her husband, Prince Albert, in 1861), she is delightfully in synch with the demands of the role, tapping her immense histrionic skills and emotive subtleties to inform it with conviction and depth.





Ali Fazal, in the role Abdul Karim, is up against the very best in the business. To his credit, he holds his ground and conveys just the right mix of bafflement and servility as the relationship evolves. The film slips up big time in the portrayal of the royal court officials - they are all strictly single-dimension caricatures who lose no opportunity to put Abdul in his place. Not that the actors fluff their lines. It is just that the lines are awkwardly shallow. And so is the film as a whole.
Get the latest election news, live updates and election schedule for Lok Sabha Elections 2019 on ndtv.com/elections. Like us on Facebook or follow us on Twitter and Instagram for updates from each of the 543 parliamentary seats for the 2019 Indian general elections. Election results will be out on May 23.