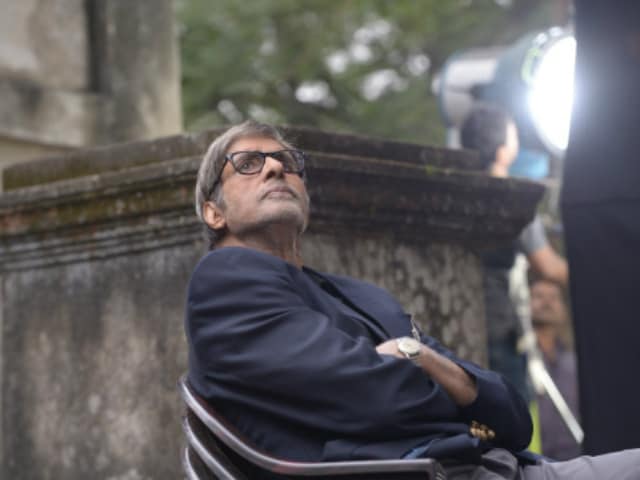 Mumbai:
Amitabh Bachchan plays a meek old man in Sujoy Ghosh's
TE3N
(
Watch trailer here
). This film was to be shot in Goa initially, but due to permission issues, it was entirely shot in Kolkata at real locations. This proved to be a kind of blessing as Bachchan, who absolutely adores the city, got to explore more than he already had during his younger days as a marketing executive.
Reminiscing those days when he lived with eight friends in a one-room studio apartment, he says, "Ribhu (Dasgupta, film's director) told me he will show some places in Kolkata that we have never seen, although I worked there for eight years. Ironically, during the shoot, I got to visit two or three places I used to go as an executive.
It was so nostalgic for me. When I had gone to the city looking for a job, I went with a lot of expectations. It was the first time that I was getting to spend time on my own, learning to run my life on my own... these are things one never forgets. I have shot a few films earlier in Kolkata, like
Do Anjaane
(1976), Rituparno Ghosh's film (
The Last Lear
),
Piku
(2015) and it has always been wonderful for me.
"Some cities and some things don't change; the infrastructure, etc. changes, but images from your past are in your head and they stay there forever. Eight of us used to live in a one-room apartment on Russel Street. It was right next to Park Street where all popular restaurants used to be. We would practically live on that street. I remember bars used to shut at 12 am; the only place where alcohol was available was Dum Dum Airport.
It was routine for all of us to drive to the airport post 12 am. The roads used to be empty, ensuring a smooth ride. All those memories just don't fade away. In the '60s, Calcutta had a lot of whites and Westerners. You know, many places in the early '60s were open only to the whites; Indians were not allowed. We wanted to join The Calcutta Swimming Club as it had magnificent pools and other things, but it would be near impossible for an Indian to get membership there. I still remember lazy Sunday afternoons when we would just sit by the river," he says mistily.
Bachchan says he loves how Bengalis hang on to the past and preserve their heritage. "I went to some places in North Kolkata and was enamoured. There were fantastic little lanes, old houses in the same condition as they were when built decades ago. Those houses have preserved old paintings, old music, etc.
My house in the film is a real home and its owner has handwritten notes by famed poet Sarat Chandra Chattopadhyay, which he has preserved so lovingly. I remember when I was in Calcutta, I would look forward to the Ballygunge music festival. Where would you get maestros like Ravi Shankar, Vilayat Hussain Khan, Ali Akbar Khan together? The festival still takes place every year and is well appreciated. There, the audience knows how to appreciate it and that's critical," he says.
(This story has not been edited by NDTV staff and is auto-generated from a syndicated feed.)