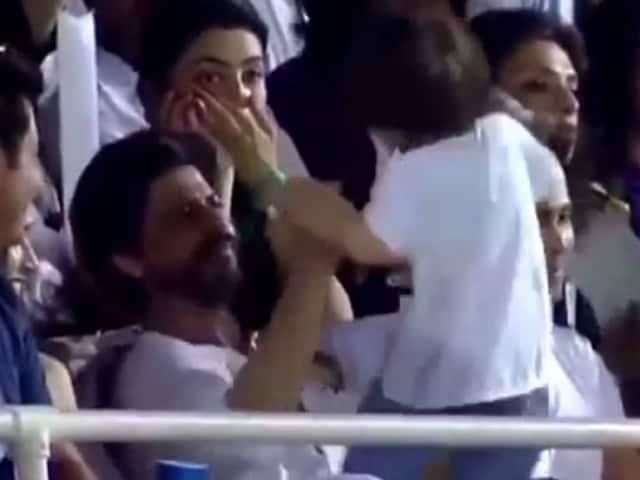 New Delhi:
There was quite a little sideshow happening in the VIP stands at Kolkata Knight Riders' match on Saturday as actor-team owner Shah Rukh Khan danced 24-month-old son AbRam on his lap.
Ooh La La
from
The Dirty Picture
began to play in Mumbai's Brabourne Stadium and AbRam broke into a little jig with a little help from papa.
AbRam is now a regular at KKR matches and has had photographers rushing to take his picture.
There wasn't much reason to dance by the end of the match with KKR losing to Rajasthan Royals by nine runs. SRK put a series of post-match tweets:
Well tried KKR. Awesome display Rajasthan Royals. Absolutely deserving winners!!! And the best hospitality in any arena CCI...thank u so much.

— Shah Rukh Khan (@iamsrk) May 16, 2015
My KKR team.Lov u.It's alrite 2 be a lil sad. Each 1 played like a champ bt sumtimes our best is not good enuff,as Genesis said,'That's all'

— Shah Rukh Khan (@iamsrk) May 16, 2015
& thank you Varun Dhawan...Kriti and Varun for turning up and supporting the team. Lov u & sorry couldn't give you more reason to cheer.

— Shah Rukh Khan (@iamsrk) May 16, 2015
On behalf of KKR i promise to Kolkata, v will try harder to make you proud. Monsoon or Math is not the Mard thing to do...next yr. Insha Allah

— Shah Rukh Khan (@iamsrk) May 16, 2015
Ending with this 'exchange' with AbRam:
He: We Won? Me: No Son. He: Why Papa? Me: Wat Son! pic.twitter.com/IMS4KgzF3x

— Shah Rukh Khan (@iamsrk) May 17, 2015