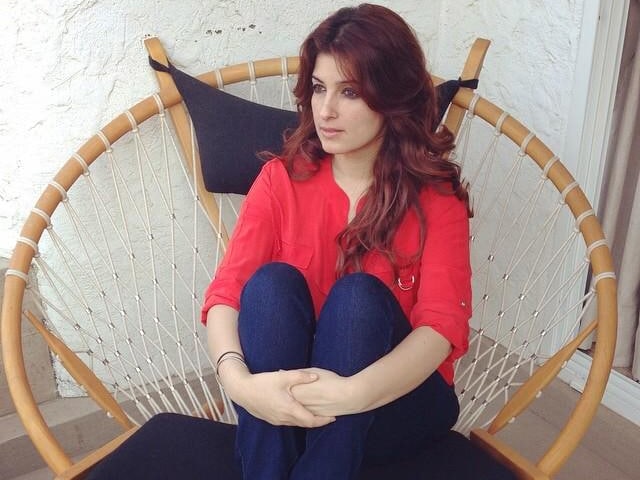 New Delhi:
Twinkle Khanna, wearer of many hats, may joke on Twitter about getting short shrift from her mother but there's plenty of admiration coming her way from several other quarters.
Now, we don't believe the fabulous Dimple Kapadia really dissed Twinkle's column nor that she could be so easily replaced by colleague Hema Malini. But like many others, we're laughing at this Twinkle joke, the latest in MrsFunnyBones' particular brand of humour.
Me:Saw my column?Mom:No!more imp did u buy dishes 4 ur kitchen Me:Cn i exchange u 4 HemaMalini at least I will get a free KentRO #worldwar

— Twinkle Khanna (@mrsfunnybones) February 17, 2015
It's not her hilarious Twitter feed, however, but this article on censorship written for
Times of India
that is the reason why the former actress is trending on Twitter. In her piece, Twinkle writes: "Shouldn't we save our strength to protest against things that really matter - like gangs of men still killing and raping women as they did again in Rohtak; that we spend $38.35 billion on warfare but are slashing our health care budget by 20% despite being a country whose public spending on health is already among the lowest in the world; that a bunch of us have been called 'haramzade' on a political platform from a member of the party that governs us and not from a standup comedian but no FIR is filed against the politician but is filed against the AIB comedians instead." (Also Read:
Save Strength to Protest Against Things That Matter, Says Twinkle Khanna on Censorship
)
The response on Twitter was instant and almost entirely admiring. Much of the public applause came from the film fraternity, direct casualties of both the controversy over the Roast and the recent bleeping of the word 'Bombay' in a song.
A sample of what celebrities are saying on Twitter:
Such imperative questions! Well done ! RT @mrsfunnybones: Worthy battles to fight... My piece in @timesofindiahttp://t.co/MEDleDTKlw

— PRIYANKA (@priyankachopra) February 15, 2015
"@mrsfunnybones: Worthy battles to fight... My piece in @timesofindiahttp://t.co/XQPlCwPWJIpic.twitter.com/mnU0N2MfeQ" STANDING OVATION

— Sonakshi Sinha (@sonakshisinha) February 15, 2015
Rational, intelligent and true!! This is what needs to #BreakTheInternet!! SALUTE!!! I'M YOUR FAN!! @mrsfunnyboneshttp://t.co/sQnS4UvwhP

— Parineeti Chopra (@ParineetiChopra) February 16, 2015
@mrsfunnybones emerging as a columnist extraordinaire....and is now a household brand!! So proud of you my darling!!!!

— Karan Johar (@karanjohar) February 16, 2015
Amazing write up by @mrsfunnybones about how we're going back in time. Read and reflect a little http://t.co/fj3DBbjxjV

— Shruti Seth (@SethShruti) February 16, 2015
Stellar piece by @mrsfunnybones ! Recommended reading for ALL, especially the pretentious and easily-offended! http://t.co/BGZziIw1wp

— VISHAL DADLANI (@VishalDadlani) February 16, 2015
@mrsfunnybones now that's a roast I like Let it trend , go viral , and offend somebody pl It's in vogue anyways

— Vinay Pathak (@pathakvinay) February 15, 2015
Strange, the amazing power of humour. I now read the Sunday Times of India for @mrsfunnybones: Try this yourself: http://t.co/Sq57JeWQpj ...

— Pritish Nandy (@PritishNandy) February 16, 2015
Twinkle, who is married to actor Akshay Kumar and has two children with him, quit Bollywood after 2001 film
Love Ke Liye Kuchh Bhi Karega
and has re-invented herself as an interior designer and now a writer. Her tweets, sent from a handle called MrsFunnyBones, are immensely popular as are her columns and she has recently snagged a book deal.
Her actor husband recently told news agency IANS: "She was once known as 'Mrs Kumar', but in all honesty, she rocks as 'Mrs Funny Bones' even more."