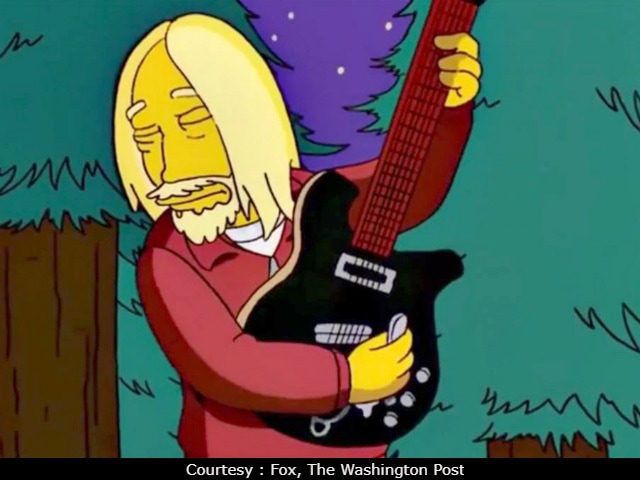 As a screen actor, Tom Petty,
the Hall of Fame rocker who died Monday
, popped up in an array of eclectic places over the decades, from Kevin Costner's apocalyptic
The Postman
to Garry Shandling's HBO comedy
The Larry Sanders Show
. But Petty was an especially entertaining presence in cartoon form, and seemed particularly fond of animated storytelling.
In 1989,
Petty made for a readily adaptable character
in the animated music video for his hit
Runnin' Down a Dream
, as the frontman hurtles through a surreal black-and-white world inspired by Winsor McCay's classic comic strip,
Little Nemo in Slumberland
. And in 2004, he began voicing the recurring character of flawed dad Lucky Kleinschmidt on Mike Judge's Fox series
King of the Hill
.
But a couple of years before that, he appeared as himself on another animated Fox hit,
The Simpsons
, in an episode titled,
How I Spent My Strummer Vacation
. (Prior to that, Petty had approved the use of the Heartbreakers' song
The Waiting
for a 1997
Simpsons
episode about gun ownership titled,
The Cartridge Family
.)
Strummer Vacation
which aired Nov. 10, 2002, centered on Homer heading off to a rock 'n' roll fantasy camp run by the Rolling Stones. The episode, written by Mike Scully, featured the guest voices of such rock stars as Petty, Mick Jagger and Keith Richards, and it was the job of the show's Eric Keyes to design Petty's character.
Keyes said he usually gathers images from the internet, but "what was so amazing about this episode, and this rarely happens, was that I was given a videotape of all the musical guest stars in the recording studio, recording dialogue and playing their instruments. You can't get better current reference material than that."
Keyes drew the assignment of designing Petty, Elvis Costello, Lenny Kravitz, Brian Setzer and Kenny Loggins.
"Elvis and Brian were designed in about 10 minutes in my sketch book while sitting on my living-room floor - that's rare," Keyes says. "I don't remember having too much trouble with Lenny Kravitz, aside from director Mike Anderson and I struggling with his wardrobe and glasses that (in real life) kept changing every other day."
But Petty's features proved especially inspiring for the episode, in which his character tries to tutor Homer on the art of meaningful lyric writing, but the fantasy campers only want to learn about "mindless generic rock."
"Tom Petty has great hair and a distinctive head shape, which is always helpful on
The Simpsons
, considering no one has a chin," he says. "Petty has a few distinctive looks, but they are subtle.
"I knew that because the episode took place at camp, that he would be dressed accordingly, so the things I struggled with the most were: Does he or doesn't he have a beard and ... glasses?"
Under deadline, though, Keyes couldn't belabor the process. "I cleaned up the approved version, turned it in," he says, "and moved on to Kenny Loggins."
(c) 2017, The Washington Post
(Except for the headline, this story has not been edited by NDTV staff and is published from a syndicated feed.)