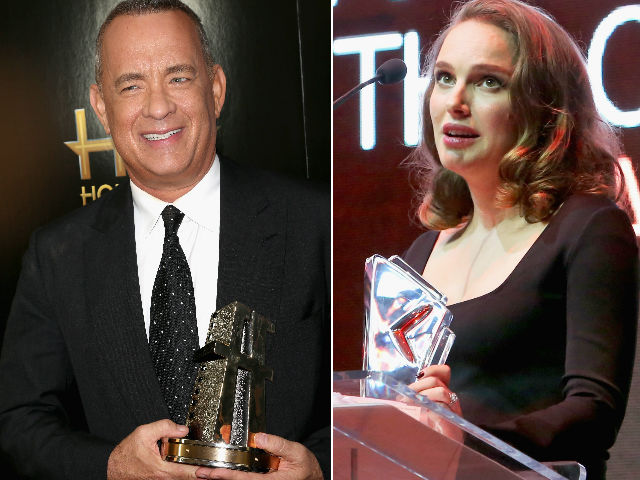 Highlights
Tom won Best Actor for Sully
Natalie won Best Actress for Jackie
Other honourees include Hugh Grant and Nicole Kidman
Los Angeles:
Tom Hanks and Natalie Portman took top acting honours on Sunday at the Hollywood Film Awards, billed as the official start of the film industry's annual prize-giving season.
The "Hollywood Blockbuster Award" went to Disney's
The Jungle Book
while there was a comedy prize for two-time Oscar-winner Robert De Niro for his role in the upcoming
The Comedian.
Tom, also a double Oscar winner,
was honoured for
Sully,
Clint Eastwood's drama about real-life hero Chelsey Sullenberger's 2009 emergency landing of a passenger jet on the Hudson River.
Natalie was recognized for her starring role in
Jackie,
a
portrait of First Lady Jacqueline Bouvier Kennedy
during the days immediately following her husband's assassination.
Best supporting actor went to Hugh Grant for comedy biopic
Florence Foster Jenkins,
while Nicole Kidman was recognized for her support role in
Lion.
"His performance in
Florence Foster Jenkins
is
miraculous and marvelous
, and I always knew he was a wonderful actor," the film's British writer Nicholas Martin told AFP.
The ceremony, which has trademarked its description of itself as "The Official Launch of the Awards Season," is in its 20th year.
Mel Gibson, who is making a comeback after his career collapsed following an anti-Semitic tirade caught on tape, was accepted back into the fold with an award for directing.
His World War II drama
Hacksaw Ridge
came out on Friday to widespread acclaim, ten years after his last directing project,
Apocalypto.
"Our crew and cast would lie in front of the tracks for Mel. They adored him and loved him. He's an amazing filmmaker and an amazing individual,"
Hacksaw Ridge
producer David Permut told AFP.
Red carpet glamour
There was no shortage of glamour on the red carpet, with the prize-winners among a host of A-listers who were not nominated, including Aaron Eckhart, Andie MacDowell and Lenny Kravitz.
Jurassic World
star Bryce Dallas Howard, whose upcoming crime thriller
Gold
bagged an ensemble award for its cast, told AFP she was excited to be going into the awards season.
"I haven't really done it that much. The year I was nominated for the Golden Globes it was cancelled," she said, referring to the 2008 ceremony, which was shelved due to a writers' strike.
"For me it's still this thing where I get to see all my friends, we're all dressed up and there's not much pressure."
Her
Gold
co-star Matthew McConaughey revealed that 2016 had been one of his "roughest" years as many family members and close friends had died -- "more so than the last 10 years combined."
"What that'll do is make you appreciate living a little more," he told reporters.
(Except for the headline, this story has not been edited by NDTV staff and is published from a syndicated feed.)