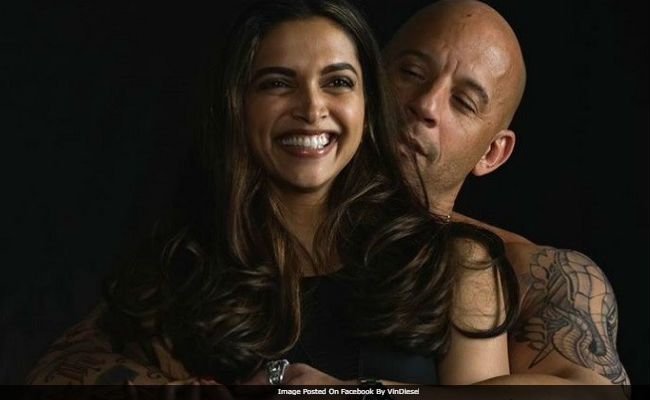 Highlights
"Deepika is the best Earth has to offer," Vin Diesel wrote
xXx: The Return Of Xander Cage was Deepika's first Hollywood film
She features under the Artists section with Nicole Kidman, Hugh Jackman
New Delhi:
Deepika Padukone's predicted global domination continues with this year's Time 100 Most Influential People
list, on which she features under the Artists section in the august company of Nicole Kidman, Hugh Jackman and Gal Gadot. That's cause for major celebration and nobody is more impressed than actor
Vin Diesel, who co-starred with Deepika in her Hollywood debut xXx: The Return Of Xander Cage
and who write her piece for Time. Vin Diesel has made no secret of his admiration for the 32-year-old actress - in fact, 'adoration' would be a better word, given his frequent and public waxing eloquent about Deepika on social media and in interviews.
So we're glad he got another chance to do so because Vin Diesel really hit the ground running this time, writing, "Deepika is the best Earth has to offer. She's not just here to represent India; she's here to represent the world." Woo hoo. Read his full piece below.
"Forever grateful," Deepika wrote on Instagram, tagging Vin Diesel:
As Vin tells it, Deepika Padukone auditioned for a
Fast And Furious
film - a franchise that Gal Gadot ended up starring in - but while that didn't work out,
xXx 3
did. When the film released in early 2017, critics agreed that
Deepika, who played a deadly xXx team member named Serena Unger
, was pretty much the best thing about the film. Deepika was last seen in "
Padmaavat
," which released this year, and has not so far announced a new Hollywood film.
The Time 100 list also includes two other Indians - cricketer Virat Kohli and Ola co-founder Bhavish Aggarwal - as well as Indian-origin Mircosoft head Satya Nadella.
Read what Vin Diesel wrote about Deepika Padukone in Time:
"When Deepika Padukone came in to read for one of the Fast and the Furious films, I knew instantly I was in the presence of someone very special. As soon as she entered the room, there was a synchronicity, a synergy, a chemistry-it promised great things to come. Her schedule didn't work for that movie, but I never gave up. She was the first role we cast in
xXx: Return of Xander Cage
. She said, "I want to do this movie, but if I do, you have to come to India." Thank God I made that deal.
"Making that movie, Deepika took committed to a whole other level. That's who she is as a performer. She wants the whole movie to shine, which is a rare thing. Anyone could talk about how beautiful she is, and anyone could tell you about her unmatched comedic timing. But she isn't just a star. She's an actor's actor, dedicated to the craft.
"So often in the entertainment industry we deal in stereotypes, and people get stuck in certain markets. Deepika is the best Earth has to offer. She's not just here to represent India; she's here to represent the world."