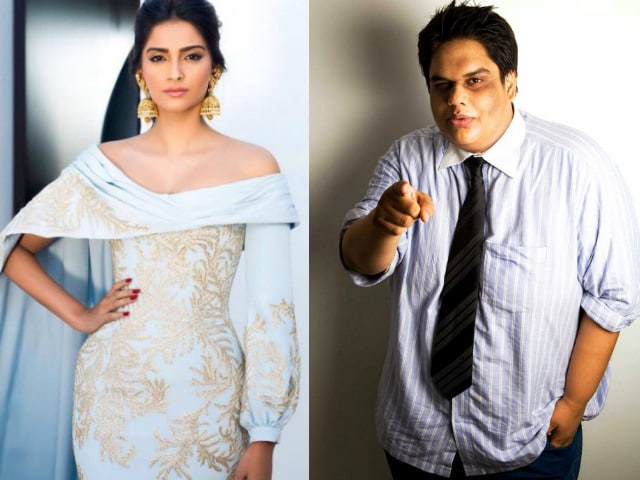 Highlights
"I'm in shock with this over reaction," wrote Sonam Kapoor on Twitter
The video shared by Tanmay imagines a conversation between Sachin, Lataji
The video was shared on Facebook on May 26
Mumbai:
Amid the growing uproar over Tanmay Bhat's controversial video, which imagines a conversation between singer Lata Mangeshkar and legendary cricketer Sachin Tendulkar, actress Sonam Kapoor has come out in support of comedy collective AIB's co-founder saying that she is "shocked" with the "over reaction".
Sonam feels that Mr Bhat's video has been misinterpreted. She posted a series of tweets on Tuesday:
Dear @thetanmay ,being your friend I know what you say and do is never to offend, but to make people laugh.. https://t.co/O2kFj0dhjX

— Sonam Kapoor (@sonamakapoor) May 31, 2016
Don't you guys think there are issues that are more important than @thetanmay snapchat jokes??? I'm in shock with this over reaction!

— Sonam Kapoor (@sonamakapoor) May 31, 2016
Being living legends I know @sachin_rt and @mangeshkarlata don't even know and care about what's going on!stop spewing hate on their behalf!

— Sonam Kapoor (@sonamakapoor) May 31, 2016
Bollywood celebrities like Anupam Kher, Subhash Ghai, Riteish Deshmukh and Satish Kaushik have strongly condemned the video on Twitter.
I am 9 times winner of #BestComicActor. Have a great sense of humor. But This's NOT humor. #Disgusting&Disrespectful https://t.co/sTuTfbAOrU

— Anupam Kher (@AnupamPkher) May 29, 2016
Dirtiest ugliest joke by Tanmay on icons-big shame n punishable.He claims-I wud walk naked in public -don't look at me if u don't like it.

— Subhash Ghai (@SubhashGhai1) May 31, 2016
Am absolutely shocked. Disrespect is not cool and neither is it funny. https://t.co/ymYPi9hxuv

— Riteish Deshmukh (@Riteishd) May 28, 2016
It is so sad & disrespectful to make fun of national icons and treasure @mangeshkarlata@sachin_rt..Tanmay u call this humour? Shame on You!

— satish kaushik (@satishkaushik2) May 29, 2016
Police complaints have been filed against Mr Bhat by Maharashtra's ruling BJP and also Raj Thackeray's Maharashtra Navnirman Sena (MNS).
The video
, which was made on Snapchat and shared on Facebook on May 26, was titled: 'Sachin vs Lata Civil War.' It went viral on social media and triggered widespread outrage.