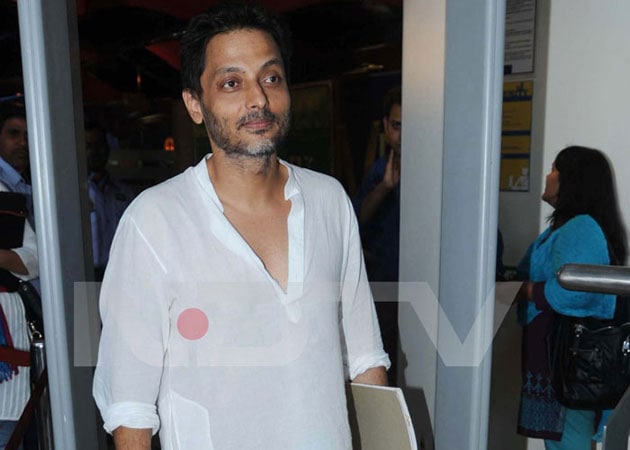 Highlights
Just two days before Rituparno Ghosh's last movie Satyanweshi hits the screens, Sujoy Ghosh, who stars in the lead role of detective Byomkesh Bakshi in the much-awaited project, is feeling the absence of the late filmmaker more than ever.
Rituparno, maker of acclaimed and award-winning Bengali films like Bariwali, Asukh, Utsab, Shubho Mahurat, Chokher Bali, Dosar, Shob Charitro Kalponik and Abohoman, was suffering from pancreatitis. He died following a heart attack May 30.
However, he had completed the production of Satyanweshi just two days before his death. The post-production of the movie was completed by cinematographer Aveek Mukhopadhyay.
"One more day for Satyanweshi to hit the cinema. Suddenly I am really missing Rituparno Ghosh. This was his show. He should be here," Sujoy posted on Twitter.
Sujoy is going all out to make the movie reach out to more people.
"Now to promote Satyanweshi... all day I am going to hold a big board in the middle of the main road saying 'Releases 6th ... come one come all'," he added.
Produced by Shree Venkatesh Films, the detective thriller also features Bengali actors Anindya Chatterjee, Arpita Chatterjee, Sibaji Bandyopadhyay and Indraneil Sengupta in key roles.
Recently, several people in West Bengal, along with chief minister Mamata Banerjee, paid homage to Rituparno on his 50th birth anniversary on August 31.
TV channels and radio stations aired special programmes, while wishes poured in on social networking sites, as film aficionados remembered the master storyteller who had brought back the educated middle and upper middle class people to the theatres to watch Bengali movies.
Rituparno Ghosh was honoured with a number of National Film Awards
Mumbai:
Just two days before Rituparno Ghosh's last movie
Satyanweshi
hits the screens, Sujoy Ghosh, who stars in the lead role of detective Byomkesh Bakshi in the much-awaited project, is feeling the absence of the late filmmaker more than ever.
Rituparno, maker of acclaimed and award-winning Bengali films like
Bariwali, Asukh, Utsab, Shubho Mahurat, Chokher Bali, Dosar, Shob Charitro Kalponik
and
Abohoman
, was suffering from pancreatitis. He died following a heart attack May 30.
However, he had completed the production of
Satyanweshi
just two days before his death. The post-production of the movie was completed by cinematographer Aveek Mukhopadhyay.
"One more day for
Satyanweshi
to hit the cinema. Suddenly I am really missing Rituparno Ghosh. This was his show. He should be here," Sujoy posted on Twitter.
Sujoy is going all out to make the movie reach out to more people.
"Now to promote
Satyanweshi... all day I am going to hold a big board in the middle of the main road saying 'Releases 6th ... come one come all'," he added.

Produced by Shree Venkatesh Films, the detective thriller also features Bengali actors Anindya Chatterjee, Arpita Chatterjee, Sibaji Bandyopadhyay and Indraneil Sengupta in key roles.

Recently, several people in West Bengal, along with chief minister Mamata Banerjee, paid homage to Rituparno on his 50th birth anniversary on August 31.



TV channels and radio stations aired special programmes, while wishes poured in on social networking sites, as film aficionados remembered the master storyteller who had brought back the educated middle and upper middle class people to the theatres to watch Bengali movies.

Rituparno Ghosh was honoured with a number of National Film Awards