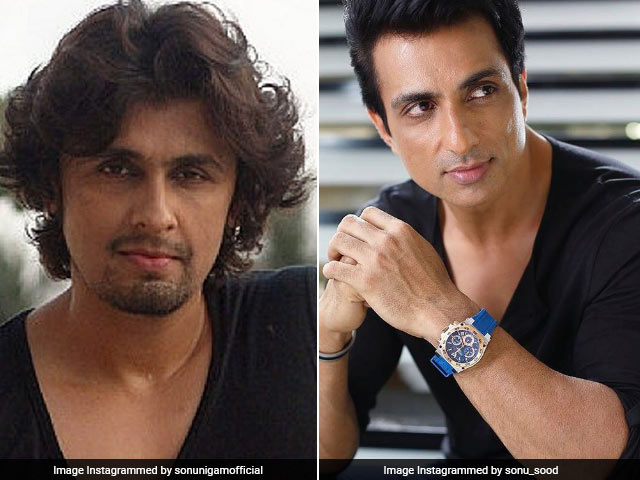 Highlights
Sonu Sood's Twitter handle have been used in some posts
Trolled, Mr Sood posted a plaintive tweet asking what's really going on
"Not gonna watch his movies anymore," read one of the tweets
New Delhi:
Actor Sonu Sood is having an identity crisis on Twitter after singer
Sonu Nigam posted a series of grumpy tweets this morning
about being woken by the morning
azaan
. The difference in last name has escaped some of those calling for a boycott of films - they've got the wrong Sonu and are trolling Mr Sood instead of Mr Nigam. Twitter has been galvanized into a frenzy of activity after reading posts from Sonu Nigam in which he complained that he was forced awake by the call to prayer despite not being Muslim, denounced the use of loudspeakers by mosques, temples and gurudwaras, and described having his sleep disturbed as '
gundagardi
.' His tweets have divided social media opinion, with several taking his side and others criticizing his posts as hateful and intolerant. A #BoycottSonu hashtag is being floated - only, Twitter can't tell between the two Sonus and Mr Sood's image and handle have been used in some posts. Like here:
No one is allowed to disrespect my religion, not gonna watch his movies anymore. #boycottsonupic.twitter.com/pMib9SzMbc

— Rofl Gandhi (@RoflGandhi_) April 17, 2017
Trolled, Mr Sood posted a plaintive tweet asking what's really going on:
I am still wondering WHO said WHAT n to WHOM n WHO'S asking me to find out WHAT happened WHERE

— sonu sood (@SonuSood) April 17, 2017
Twitter reacted with hilarious incredulity, grabbing the chance to refer to misplaced outrage against e-commerce portal Snapdeal after the CEO of social networking app SnapChat said he wasn't interested in business from 'poor countries' like India.
After sonu nigam's tweet Sonu sood be like pic.twitter.com/5WkcvZTS4a

— Shobu (@Lakadbhagha) April 17, 2017
Are people going to unfollow Sonu Sood now?

— Shilpa Rathnam (@shilparathnam) April 17, 2017
People attacking Sonu Sood instead of Sonu Nigam r the same who attacked Snapdeal instead of Snapchat. These people deserve standing ovation

— prayag sonar (@prayag_sonar) April 17, 2017
If the Snapchat/Snapdeal debacle has taught us anything, I'm totally expecting Sonu Sood to run out of movie contracts any minute now.

— Akshiv Pathania (@AkshivPathania) April 17, 2017
Sonu sood will soon regret his first name.#sonunigam

— Dev Mittal (@Devmittal_civ16) April 17, 2017
When people tag sonu sood instead of sonu nigam !! pic.twitter.com/HQKyZBcIhN

— Harshit'astic (@b2harshitb2) April 17, 2017
For anyone still confused,
Sonu Sood is an actor who has starred in films like Salman Khan's Dabangg
and Shah Rukh Khan's
Happy New Year
. Sonu Nigam is a singer of repute whose body of work includes playback for films such as
Kal Ho Naa Ho, Saathiya, Dil Se, Border
and
Main Hoon Na
.
Meantime, here are the tweets from Mr Nigam that set Twitter off:
God bless everyone. I'm not a Muslim and I have to be woken up by the Azaan in the morning. When will this forced religiousness end in India

— Sonu Nigam (@sonunigam) April 16, 2017
And by the way Mohammed did not have electricity when he made Islam.. Why do I have to have this cacophony after Edison?

— Sonu Nigam (@sonunigam) April 17, 2017
I don't believe in any temple or gurudwara using electricity To wake up people who don't follow the religion . Why then..? Honest? True?

— Sonu Nigam (@sonunigam) April 17, 2017
Gundagardi hai bus...

— Sonu Nigam (@sonunigam) April 17, 2017
Sonu Nigam has not acknowledged the mistaken trolling of Sonu Sood - yet.