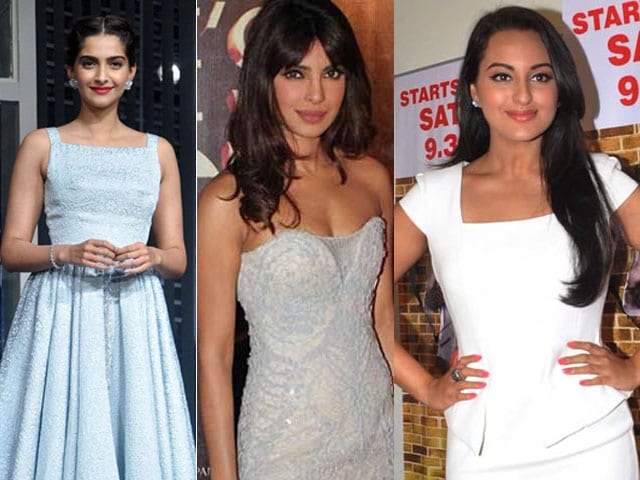 New Delhi:
We're glad to see Sonam Kapoor has abandoned her resolution to tweet about 'fashion and brands.' Late Thursday night, both Sonam and colleague Priyanka Chopra mounted a strong defence of actress Sonakshi Sinha for confronting trolls. (Also Read:
Trolled, Sonam Kapoor Says She'll Stick to Fashion in Tweets
)
Sonam, who was trolled herself a day before Sonakshi for including the word 'misogynistic' in a tweet about the meat ban in Mumbai, congratulated the actress for not backing down and urged 'everyone out there' not to let themselves be silenced: (Also Read:
First Sonam, Now Sonakshi. 10 Bollywood Celebs Trolled on Twitter
)
I'm super proud of @sonakshisinha for having the courage to have an opinion and not backing down.. #whattagirl#wearyourcourage#bulliessuck

— Sonam Kapoor (@sonamakapoor) September 10, 2015
To everyone out there please have the courage to stand up to bullies, trolls and people who generally put you down.. #wearyourcourage

— Sonam Kapoor (@sonamakapoor) September 10, 2015
Have an opinion whether it's good bad or ugly.. Let no one silence your voice.. Have the courage to stand up for what you think is right!

— Sonam Kapoor (@sonamakapoor) September 10, 2015
From the sets of her new American TV show
Quantico
, Priyanka Chopra also added her own tweet to the chorus, also adding the hashtag ##fightlikeagirl in conversation with Sonakshi:
Hhaha @sonakshisinha#fightlikeagirl

— PRIYANKA (@priyankachopra) September 10, 2015
Sonakshi thanked both actress, telling Sonam that "the feeling (was) mutual" and noting that Priyanka has been "saying it all this while - #fightlikeagirl."
The last word in the three-way conversation between the actresses went to Sonam:
Since moustaches,girlpower & musicians r ruling my TL I thought I'd post this! #throwbackhttp://t.co/kFxB2XBbK9pic.twitter.com/oS1G2WhOY0

— Sonam Kapoor (@sonamakapoor) September 10, 2015
Sonakshi found herself heaped with abuse for these tweets two days ago:
This is a free country! Welcome to BAN-istan... I meant india.. Stupid autocorrect.

— Sonakshi Sinha (@sonakshisinha) September 8, 2015
Why no ban on ignorance/negligence? What about the flood affected people of assam? Priorities people. Priorities.

— Sonakshi Sinha (@sonakshisinha) September 8, 2015
She was fat-shamed and accused of 'double standards.' The actress, who is currently in Budapest filming
Force 2
, responded with a series of tweets:
Welcome to twitter. Whr only trolls r allowed to have their say yep, the only space they shud be takin up in life is the 140 chars here!

— Sonakshi Sinha (@sonakshisinha) September 9, 2015
And the best part is, trolls think they are relevant, while we carry on with our happy and positive lives god bless you all!

— Sonakshi Sinha (@sonakshisinha) September 9, 2015
Me: have something to say.Twitter: r u a troll? Me: no Twitter: NO u can't have an opinion. Go away. Shoo. *intimates other trolls* ATTACK

Sonakshi Sinha (@sonakshisinha) September 9, 2015