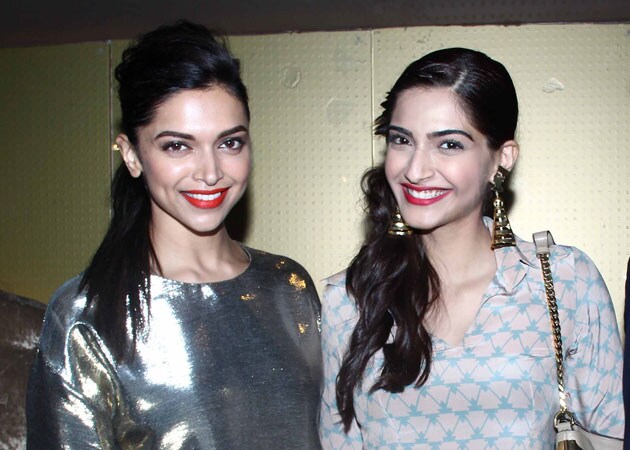 Highlights
'I don't think I will ever reach their standard,' said Sonam
'I don't think I'll ever be as good as them,' she added
'I am okay with comparisons,' said Sonam
New Delhi:
Actress Sonam Kapoor made a confession of sorts recently. The 31-year-old actress said that she can never be "as good as" her contemporaries
Deepika Padukone
and Priyanka Chopra, reported
Pinkvilla
. "I don't think I will ever reach their standard,"
Pinkvilla
quoted Sonam as saying. Sonam Kapoor joined one of America's topmost talent agencies Unitled Talent Agency (UTA) in September last year, giving rise to speculations that she is on her way to make her Hollywood debut soon. Both Deepika and
Priyanka
have worked in Hollywood - Deepika's
xXx: The Return Of Xander Cage
, released in January while Priyanka's
Baywatch
is scheduled for May 19. Talent agency UTA handles international celebrities like Angelina Jolie, Benedict Cumberbatch, Mark Ruffalo, Daniel Radcliffe and Gwyneth Paltrow.
When asked about being compared to Deepika and Priyanka, Sonam told
Pinkvilla
that she finds it "Okay." "I think they are doing very good and I hope I can do as well as them. I don't think I will ever reach their standard. I am okay with comparisons because I don't think I'll ever be as good as them. They are doing well, very well and I just hope I can do a fraction of what they are doing. I will be very happy with that much," Sonam told
Pinkvilla
.
For Sonam, there's no difference between working in
Hollywood and Bollywood
. She told
Pinkvilla
: "I am looking for the same kind of roles that I am looking forward to when it comes to Bollywood. I want to do good roles even in Hollywood. There's no difference. Wherever I get the best work, I will work there. Even if it's in China. It doesn't matter which industry it is."
Sonam also added
that between Hollywood and Bollywood, she would always go for the "meatier" role but she does want to explore options. Sonam told
Pinkvilla
: "I don't think any career of mine will take a backseat if I continue doing good work. I want to use my time effectively and I am not crazy. It's not like I am waking up every day to, 'Oh, I want to become a Hollywood star'. That's not how it works but as an actor, I want to expand my horizons. So, if my agent abroad has given me a role there and I get it a role here, which has more meat to it, then I will do the Bollywood film. And vice-versa. It's the same thing. You are acting here as well as there. Just that you are doing a different language."
Last seen in Neerja
, Sonam Kapoor will next star in Shashanka Ghosh's
Veerey Di Wedding
, co-starring Swara Bhaskar and Kareena Kapoor.