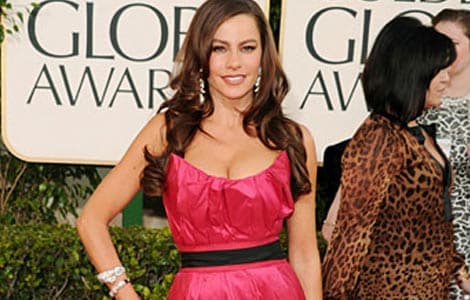 Highlights
Sofia Vergara was reportedly turned away from a New York club because she had no ID to prove she was over 21.
The 39-year-old Modern Family actress was refused entry to the Ava Lounge at the Dream Midtown hotel because she could not prove she was old enough to drink, according to the New York Post.
She was apparently heading to a party in the venue for Broadway show 'Ghost the Musical' when a doorman demanded to see her ID.
Admitting she had none, the security worker refused to believe her friends' pleas of, "You know who she is, right?" and turned her away.
But despite the inconvenience, the refusal may provide a confidence boost to for the Latino star, who has previously admitted she does worry about getting old.
She said: "I think anybody who says they don't care about ageing is lying. Of course you care! I wish I could stay looking good forever. I don't care about looking young, so much as looking good."
And with her 40th birthday approaching, Sofia admits she wouldn't rule out plastic surgery in the future.
She said: "Hopefully by the time I really need it, they will have invented better procedures, so I wouldn't be so afraid. I would also want to be 100 per cent assured that I was going to look better, too! But never say never."
New York:
Sofia Vergara was reportedly turned away from a New York club because she had no ID to prove she was over 21.
The 39-year-old
Modern Family
actress was refused entry to the Ava Lounge at the Dream Midtown hotel because she could not prove she was old enough to drink, according to the New York Post.
She was apparently heading to a party in the venue for Broadway show
Ghost the Musical
when a doorman demanded to see her ID.
Admitting she had none, the security worker refused to believe her friends' pleas of, "You know who she is, right?" and turned her away.
But despite the inconvenience, the refusal may provide a confidence boost to for the Latino star, who has previously admitted she does worry about getting old.
She said: "I think anybody who says they don't care about ageing is lying. Of course you care! I wish I could stay looking good forever. I don't care about looking young, so much as looking good."
And with her 40th birthday approaching, Sofia admits she wouldn't rule out plastic surgery in the future.
She said: "Hopefully by the time I really need it, they will have invented better procedures, so I wouldn't be so afraid. I would also want to be 100 per cent assured that I was going to look better, too! But never say never."