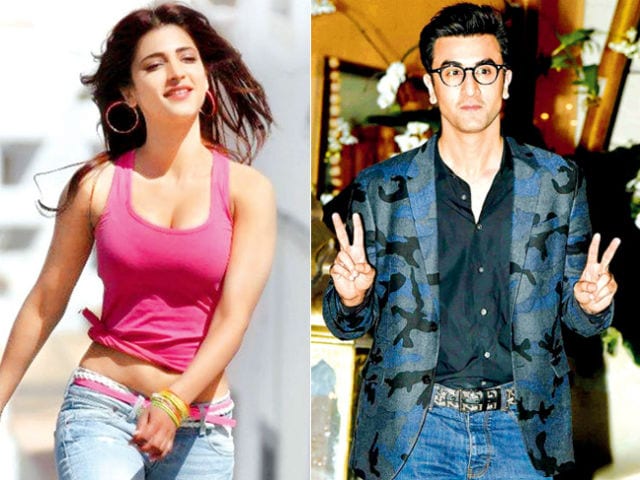 Mumbai:
From the time he and Katrina Kaif called time on their six-year relationship,
Ranbir Kapoor's personal
life has been grist for gossip mills. Recently, whispers of a romance with Shruti Haasan did the industry rounds after the two shot for an ad together. The two reportedly also went for a cosy dinner and have been in touch since.
But,
the outspoken actress
disses the rumours. "It's so funny and ridiculous that it doesn't even make any sense," Shruti says, insisting there is no truth to it. "I am very busy with my work and have nothing to say because these rumours don't affect me anymore," she adds.
On the work front,
Shruti is excited
to resume work with father Kamal Haasan on their first film together,
Sabaash Naidu
. Haasan Sr, who fractured his right leg after falling down the stairs of his office in Chennai and had to undergo surgery, is back on his feet.
"To work with him in the capacity of an actor is a completely different experience. Once on the sets, our relationship is strictly professional. He is a taskmaster and wants things a certain way. I am enjoying it and getting a lot to learn at the same time," she says.
In spite of maintaining a professional equation on the set, they have had quite a few daddy-daughter moments. "We were shooting for an emotional sequence and he was supposed to take my character's name, but ended up calling out my real name. Kamal Haasan rarely messes up things, so that was sweet," Shruti recounts.
The actress recently came up with a video titled 'Be The Bitch', which redefines the cuss word as something to do with girl power. She says, "For a while, Unblushed and Culture Machine have been making some interesting videos. I wanted to do something that'd feel real to my thought process and also reflect who I am as a person. I wrote a few lines and discussed the idea to showcase a gutsy yet vulnerable woman of today who is otherwise labelled 'the bitch'. Everyone loved it."
She is quick to explain that it is not an anti-men video: "I am not a feminist, but an egalitarian and feel that certain stigma-laden terms need an overhaul."
(This story has not been edited by NDTV staff and is auto-generated from a syndicated feed.)