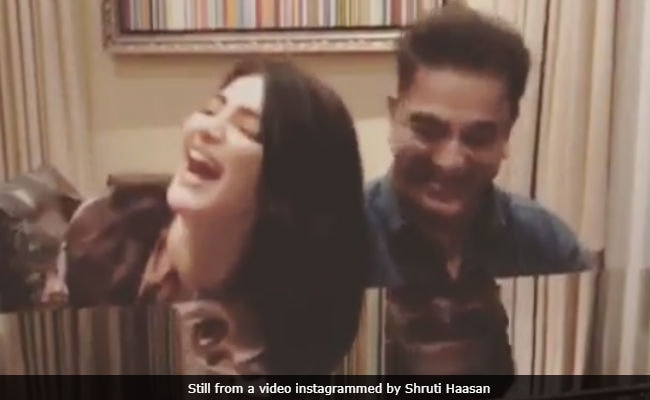 Highlights
Kamal Haasan had Shruti in splits with his funny expression
Such a fun evening singing with my daddy dearest: Shruti
Shruti and Kamal Haasan co-star in Sabaash Naidu
New Delhi:
Shruti Haasan and her father Kamal Haasan were jamming together and a clip of their music session was shared by the former on her Instagram account. "Such a fun evening singing with my daddy dearest," she captioned the post. In the mini-clip shared by Shruti, Kamal Haasan plays a piece on piano, which makes Shruti ROFL. Kamal Haasan's expression is priceless and it will put a smile on your face too. Can we say, '
Sabaash Naidu
!' Take a look at Shruti and Kamal Haasan's adorable video here:
Shruti Haasan
recently told
mid-day
that she will concentrate on music instead of films this year. "As an artiste, I can't be constricted. It is essential that I constantly keep reinventing myself. This year will see me come up with my own singles." Shruti Haasan has starred in several Hindi, Tamil and Telugu films. "Three industries and multiple films simultaneously were leaving little time for me to find myself. People were forming opinions about me, almost to the point of pigeonholing and that's the last thing I want," Shruti told
mid-day
.
Shruti Haasan has also composed music films such as
Unnaipol Oruvan
and
Eenadu
. Shruti has doubled as a playback singer for tracks such as
Kannulada
in the Telugu version of
3
and
Aazma
in Hindi film
Luck
.
Shruti Haasan was also the playback singer of
Jaago Gori
and
Ram Ram Hey Ram
- tracks from Kamal Haasan's
Chachi 420
and
Hey Ram
, respectively.
Shruti and Kamal Haasan are also
making Sabaash Naidu together
, which is also directed by Kamal Haasan.