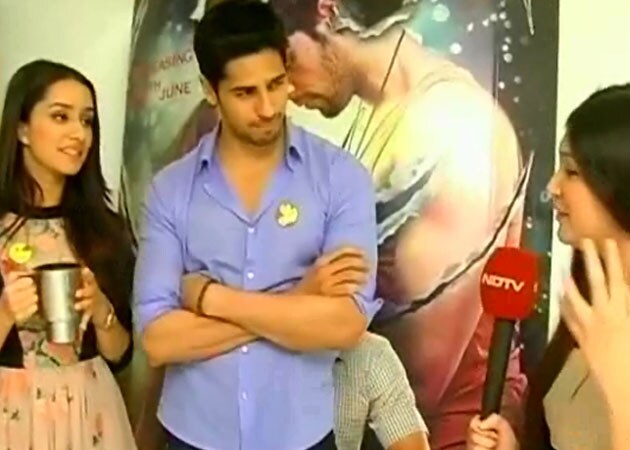 Highlights
The grand success of Ek Villain has validated that good girls do often fall for bad boys. And while all the bad boys who featured in the movie were busy partying and celebrating, actress Shraddha Kapoor was keeping an eye on the box office figures. "I am the Ek Villain calculator. I am tracking the box office collections regularly," she said.
Actor Riteish Deshmukh, who played a negative role for the first time, was elated by the response from movie-goers. Riteish said about his straight-faced character, "I asked Mohit Suri (director)' what should my eyes express' and he said 'nothing'. It is great that people are looking so much into my performance."
The movie also overturned the chocolate boy image of actor Sidharth Malhotra. His intense performance won him a congratulatory call from megastar Salman Khan. "It was very sweet and supportive of him to call and congratulate. I requested him to join us and he did. He enjoyed with us at our movie's party, which most actors would not have done. Hats-off to him," said Sidharth.
Brushing off rumors that she had skipped the party to celebrate the success of Ek Villain, Shraddha said "All of us were ecstatic and danced on songs from Salman Khan's old movies. It was a lot of fun."
Mumbai:
The grand success of
Ek Villain
has validated that good girls do often fall for bad boys. And while all the bad boys who featured in the movie were busy partying and celebrating, actress Shraddha Kapoor was keeping an eye on the box office figures. "I am the
Ek Villain
calculator. I am tracking the box office collections regularly," she said.
Actor Riteish Deshmukh, who played a negative role for the first time, was elated by the response from movie-goers. Riteish said about his straight-faced character, "I asked Mohit Suri (director) 'what should my eyes express' and he said 'nothing'. It is great that people are looking so much into my performance."
The movie also overturned the chocolate boy image of actor Sidharth Malhotra. His intense performance won him a congratulatory call from megastar Salman Khan. "It was very sweet and supportive of him to call and congratulate. I requested him to join us and he did. He enjoyed with us at our movie's party, which most actors would not have done. Hats-off to him," said Sidharth.
Brushing off rumors that she had skipped the party to celebrate the success of
Ek Villain
, Shraddha said "All of us were ecstatic and danced on songs from Salman Khan's old movies. It was a lot of fun."
Watch