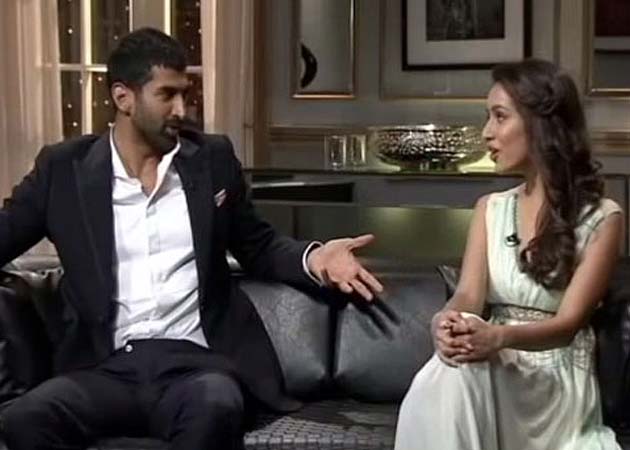 Highlights
Shraddha Kapoor and Aditya Roy Kapur, lead actors of last year's musical superhit Aashiqui 2, will be sharing Koffee with director and TV host Karan Johar on March 9.
In a sneak peek at the episode, we see a glimpse of the chemistry that has prompted rumours of the reel life romance spilling off the screen and into real life.
Try as he might, Karan Johar can't get Shraddha and Aditya to admit to being an item, though they do sing Tum Hi Ho from the film at his request. They also shower each other with compliments, with Aditya saying he found Shraddha very attractive.
That's all Aditya's admitting to. "Aashiqui kind of love? I don't think that has happened between us," he says.
Shraddha dodges the question with "I think you should ask him (Aditya) that?". Aditya responds with the rather ungallant "I am very much in love with Aditya Roy Kapur. I think he is a great guy."
The only confession on this Koffee session is Aditya's revelation that he tried getting into the skin of his character by drinking on set but ended up getting so drunk the shoot had to be cancelled. He says, "I had a little more than what I could handle. With those things you have to stop at the correct point else things become slurry and dreary."
In the "rapid fire" round, Karan asks Aditya what questions he'd pose to celebs if he were to be a VJ again. Aditya says he would ask both Ranbir Kapoor and Salman Khan they were getting married and Deepika Padukone when she'd be marrying him.
Shraddha fumbles on her question about the "casting couch" and somehow manages to say: "It's kind of like piracy. It works for some, not for others. But is totally unacceptable."
New Delhi:
Shraddha Kapoor and Aditya Roy Kapur, lead actors of last year's musical superhit
Aashiqui 2
, will be sharing Koffee with director and TV host Karan Johar on March 9.
In a sneak peek at the episode, we see a glimpse of the chemistry that has prompted rumours of the reel life romance spilling off the screen and into real life.
Try as he might, Karan Johar can't get Shraddha and Aditya to admit to being an item, though they do sing
Tum Hi Ho
from the film at his request. They also shower each other with compliments, with Aditya saying he found Shraddha very attractive.
That's all Aditya's admitting to. "
Aashiqui
kind of love? I don't think that has happened between us," he says.
Shraddha dodges the question with "I think you should ask him (Aditya) that?". Aditya responds with the rather ungallant "I am very much in love with Aditya Roy Kapur. I think he is a great guy."
The only confession on this Koffee session is Aditya's revelation that he tried getting into the skin of his character by drinking on set but ended up getting so drunk the shoot had to be cancelled. He says, "I had a little more than what I could handle. With those things you have to stop at the correct point else things become slurry and dreary."
In the "rapid fire" round, Karan asks Aditya what questions he'd pose to celebs if he were to be a VJ again. Aditya says he would ask both Ranbir Kapoor and Salman Khan they were getting married and Deepika Padukone when she'd be marrying him.
Shraddha fumbles on her question about the "casting couch" and somehow manages to say: "It's kind of like piracy. It works for some, not for others. But is totally unacceptable."
Watch the video: