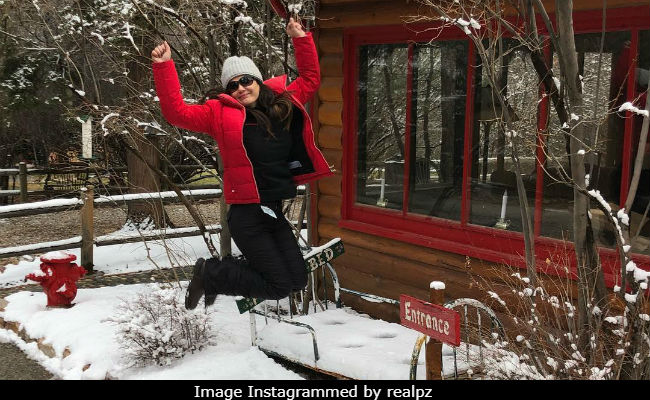 Highlights
Preity Zinta is currently chilling in California
She checked into a California ski resort for the weekend
'Ski weekend,' she wrote on Instagram
New Delhi:
Upar upar... in the air
! Guess who? Pretty Zinta is. The 43-year-old actress shared about another one of her adventures at a California ski resort on Instagram and said: "Hawa mein!" Preity must have jumped in the air for the camera and the shot has been captured in the absolute right moment when both of her feet are off the ground. Preity's snow-carpeted surrounding (the mountains of California) is where she spent her weekend skiing around. "If you want to fly, you have to give up the stuff that weighs you down. #TuesdayThoughts #dailymotivation #skiweekend #fitnessgoals #हवामे #literally #ting (sic)," she captioned her photo. Preity Zinta apparently heads to the picturesque locales of California when she misses her hometown - Shimla - way too much.
For another photo on Instagram, she wrote: "Whenever I miss the snow-capped mountains of Shimla, I come here."
Preity Zinta's bag of adventures is full of interesting memories. She was recently spotted exploring around in the Napa Valley and before that,
playing Holi in Los Angeles.
Almost all of Preity's adventures include her husband Gene Goodenough, who regularly features in her Instagram posts.
Preity Zinta and Gene Goodenough
dated for five years before they got married in Los Angeles in February 2016.
Last year, Preity and Gene explored many trekking and hiking trails in South Africa. Preity was even delighted to have spotted Cheetahs on the road. "You know you are having the trip of a lifetime when you go for a walk and see 3 Cheetah's chilling on the dirt road," she had captioned her photo.
Preity Zinta, who is originally from Shimla, shuttles between India and US throughout the year and was last seen in 2013's
Ishkq In Paris
, which she also produced. She is awaiting the release of the much delayed
Bhaiyyaji Superhitt
, which went in floors in 2014.