New Delhi:
Highlights
Some Instagram users invoked her PETA association
"Why torture the fish for nothing," read one comment
Some people also defended Shilpa saying, "fishing is not a crime"
Shilpa Shetty, who is vacationing in Maldives with her husband Raj Kundra and their son Viaan, posted a video, in which she shows a fish she caught (and then released) and a section of the Internet is really upset. "Realised "Fishing" ain't that easy... not my thing at least !! This beauty got caught in our hook (not the kind to eat) so we released it," Shilpa captioned the video. Some Instagram users accused her of being cruel to animals "even though she's vegetarian"
(which Shilpa is not)
while others were unimpressed because she left an "injured fish to bleed to death." One such comment read: "This is really cruel... I mean why torture the fish for nothing... If she wanted to eat it then it was okay, but she didn't... She was just enjoying... unacceptable." After several such comments were posted, Shilpa clarified that she had the fish released because it wasn't the kind one eats and that the fish "did not die."
Not all Instagram users were convinced and posted comments such as: "The fish is pierced through its neck with that sharp hook and traumatised already and who knows whether it survived or not with that wound and pain. It's okay if you are a non-vegetarian but being associated with PETA and still hurting any animal with any intent is not justifiable at all #hypocrisy"
This was Shilpa Shetty's post:
And the comments she added later.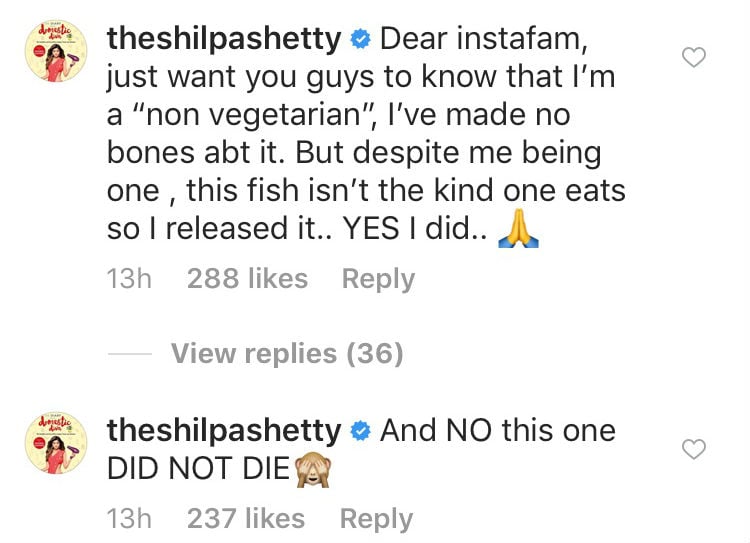 The negative comments were somewhat neutralised by some positive posts too. "Come on guys... fishing is not a crime... it's done all over the world... just because she is a celebrity doesn't mean you all jump into a conclusion and make nasty comments on her."
Shilpa Shetty joined PETA in 2006 for a campaign against the use of wild animals in circuses.
Last year, Shilpa Shetty was trolled for posting photos of herself and her son Viaan engaging with the animals (not native to the Emirates) of a private zoo owned by entrepreneur Dr Saif Ahmed Belhasa. Shilpa
deleted the posts after severe backlash
.
Get Breaking news, live coverage, and Latest News from India and around the world on NDTV.com. Catch all the Live TV action on NDTV 24x7 and NDTV India. Like us on Facebook or follow us on Twitter and Instagram for latest news and live news updates.