New Delhi:
Highlights
Shilpa posted a video with a chimpanzee and the internet was not amused
"Why on earth do you support this animal cruelty?" said one user
Shilpa deleted all the videos of her interaction with the animals
Shilpa Shetty and her son Viaan are vacationing in Dubai and like many other celebrities, they stopped over at the Belhasa residence, which is owned by entrepreneur Dr Saif Ahmed Belhasa. Shilpa and Viaan interacted with various animals (not native to the Emirates), housed at the Belhasas' and after a severe backlash on Instagram, the actress deleted all three video of her with the animals. In one video shared by Shilpa Shetty, the actress interacted with a chimpanzee named Princess. She cuddled the primate, who'd smile and kiss Shilpa as instructed by the tutor. "This one's my favourite video, missing Princess already," Shilpa wrote in caption of the now deleted post. Though some Instagram users couldn't stop gushing over the video, others slammed it saying: "Why on earth do you support this animal cruelty?" Another user said: "These expressions are taught to monkeys by hurting them. Sad! People see them as entertainment." There were some who gave the owners benefit of the doubt and wrote: "Such precious animals they are! I just hope they have trained with love and not tortured him to follow commands. He looks timid and perplexed though."
However, links to Shilpa's deleted Instagram posts are available on her official Twitter account: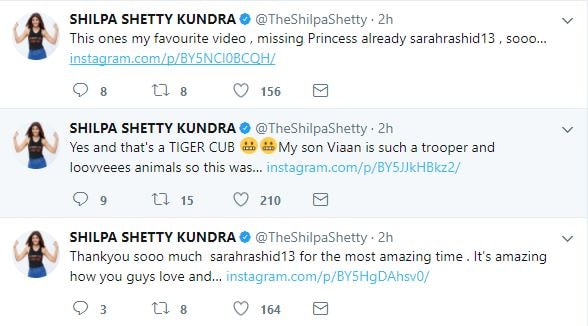 Shilpa had also shared a video of her son Viaan feeding a tiger cub and the experience she said was 'surreal' for Viaan. "So important to instill love and compassion for animals in children, I believe they grow into more responsible and sensitive human beings," she had written in caption. Again, Instagram users were not impressed: "Tigers are meant to be free in a jungle, not have milk from bottles and live in mansions." One comment read: "If you love animals, then firstly you shouldn't have clicked a picture with animals and secondly you should have told your son the sort of cruelty these babies go through. An actress with such fan following should not promote such things, it is simply for the sake of photographs that tiger cubs are separated from their mothers."
Shilpa had shared a third video, in which she and Viaan fed leaves to a pair of giraffes. Shilpa supported the Belhasas and wrote in caption: "It's amazing how you guys love and take care of these animals."
The Belhasas are one of the richest families of Dubai and their 15-year-old son Rashed aka Money Kicks is also an entrepreneur. Among the many businesses owned by the Belhasas is a driving center. Bollywood actor Salman Khan recently
inaugurated a new branch of the Belhasa Driving Center
, which the Internet found ironic because the
Tiger Zinda Hai
actor was tried for a hit-and-run case in India. Salman was invited by Rashed, who has chronicled his celeb meet-and-greet diary on Instagram.
Shilpa also met Rashed, with whom she sat for a round of dessert tasting - one of the four videos she did not delete.
Shilpa Shetty hasn't posted any clarification or issued a statement regarding the videos which she deleted.
Get Breaking news, live coverage, and Latest News from India and around the world on NDTV.com. Catch all the Live TV action on NDTV 24x7 and NDTV India. Like us on Facebook or follow us on Twitter and Instagram for latest news and live news updates.