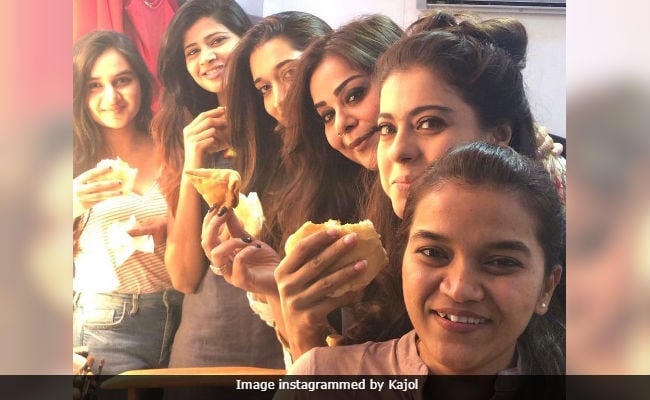 Highlights
Amy Schumer recently said that many actresses have 'hungry days'
Kajol recently posted a picture with her 'team vada pav'
Check out Priyanka Chopra, Shilpa Shetty's posts about food
New Delhi:
Celebrities, they are just like us, right? American comedienne Amy Schumer just caused a bit of an uproar by claiming many actresses have 'hungry days,' starving themselves to be thin - but Bollywood seems quite happy to post pictures of themselves with lots of yummy food. Whether or not they actually eat the food is anybody's guess, but posts regularly pop up on social media suggesting that these stars like to down a samosa or sweet treat once in a while, just like the rest of us. So we've collated some of the best food posts shared by celebs here. For some stars, eating is a team sport.
Kajol, currently filming Eela
, posted a photo over the weekend in which she and her team munch on vada pav. 'Team spirit. Team vada pav,' Kajol wrote.
See her Instagram post here.
Priyanka Chopra, who has been shooting for American TV show
Quantico 3
in New York, landed in Dubai last week. Priyanka posted a picture of a Middle Eastern feast laid out for her - and others, plainly, but she appears to have got to lunch (or dinner, as it maybe) early."Ummm is that all for me? Ok then, thank you!! Lol. I almost look scared.. #wheretostart," Priyanka wrote. We spot hummus, olives and other delicacies.
On her cheat day, Priyanka Chopra eats a doughnut. (Sweet tooth, anyone?)
Shilpa Shetty is now known for her famously indulgent weekend binge sessions. 'Sunday Binge' is now an Instagram event that Shilpa's fans follow closely. Every Sunday, the fitness conscious star posts pictures and videos from her cheat day, which she often fills up with dessert.
On Gudi Padwa (celebrated on Sunday), she ate jaggery chikkis
.
The Sunday before that, some crispy waffles made it to Shilpa's menu.
While in Bulgaria, Alia Bhatt indulged in some 'beet tasting.' She is shooting for
Brahmastra
with Ranbir Kapoor in the Balkan country.
Last month, Bhumi Pednekar was in a Paris state of mind, craving a French crepe.
Which celeb post did you think looks the most tempting? Tell us in the comments section.