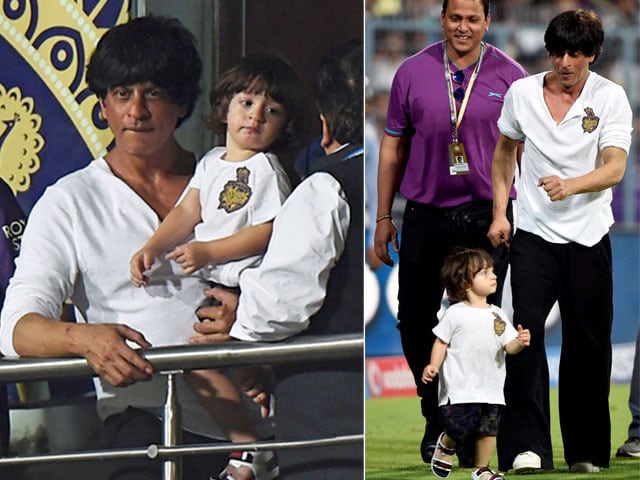 Superstar Shah Rukh Khan, who made a whistle stop visit to his home city, Delhi, for the launch of luxury properties on April 11, oozed charm and looked much leaner than he has done before. At the event, Shah Rukh Khan said that the developers had a far neater children's room than his own room at home.

On the topic of family, one couldn't help but ask him about AbRam, the youngest member of his family, who seems to have become the darling of photographers. Not yet two, but it seems AbRam Khan shares his father's passion for cricket. AbRam, who was seen cheering his father's team KKR at the opening match of IPL, may just be a regular at the stadium this season.

Talking about AbRam, Shah Rukh Khan said, "The little one shows interest in everything I take him to, poor guy he doesn't know yet, but he really enjoyed himself. We were really surprised because I thought he would go to sleep, so we had fixed a little table behind, but he was awake throughout. He was up till 2 am enjoying and learned two new words- Yay and KKR.".

With KKR beginning the season with a win, SRK said "What do you want me to do if they were to win, Fly? But proud of his young team, he said that KKR's talent was of international level and though many of the team members had not played international cricket, the IPL was the perfect platform."

The actor, who has just wrapped up Fan, was asked what it meant to be on the other side - being a fan. The superstar said, "I don't regard my fans as fans. They are family. It's because of their love and support that I am what I am. But the movie is far different from what the title divulges". And though not in a position to divulge much, he hoped people would like what he had done.


Soon to start work on Rohit Shetty's
Dilwale
with actress Kajol, who he addressed as his 'dearest friend' at the event,
Baadshah
Khan said that he was thrilled that she agreed to star in the film.
The recent mandate on prime slots be made available to Marathi cinema by multiplexes had the actor's support. Shah Rukh said, "First of all, I just think that regional cinema has to be, you know, not just supported but also encouraged. I really believe Marathi cinema is wonderful, I have seen some of the films and I am producing a couple myself."
Talking about the April fool joke about him adapting
Boyhood
with his sons, the actor said, "My children are too young to decide whether they want to be actors or not. At the moment, my focus is upon them completing their education and becoming good citizens."Watch: