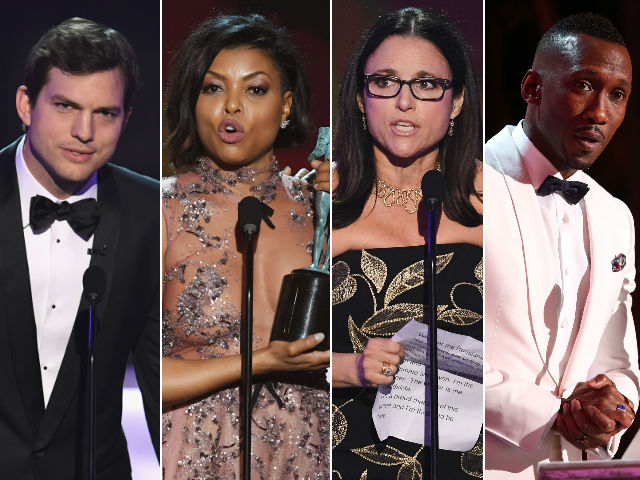 Washington:
For those who believe actors should shut up and act and not focus on politics, no such luck - during the
Screen Actors Guild Awards on Sunday night
, the majority of celebrities on stage spoke out in some way against President Donald Trump's executive order on immigration, which bans refugees and people from seven primarily Muslim countries from coming into the United States.
"Good evening, fellow SAG-AFTRA members and everyone at home - and everyone in airports that belong in my America," Ashton Kutcher said to big applause, as he kicked off the show. "You are a part of the fabric of who we are, and we love you and we welcome you."
Julia Louis-Dreyfus, picking up an award for TV comedy actress on HBO's
Veep
, started out with jokes about Russians hacking the SAG Award voting, but quickly got serious as she slammed the executive order.
"I want you all to know that I'm the daughter of an immigrant. My father fled religious persecution in Nazi-occupied France. And I'm an American patriot and I love this country. And because I love this country, I am horrified by its blemishes. And this immigrant ban is its blemish and it's un-American," Louis-Dreyfus said, reading a statement made by the Writers Guild earlier on Sunday: "Our guilds are unions of storytellers who have always welcomed those from other nations, and of varying beliefs, who wish to share their creativity with America. We are grateful to them. We stand with them. We will fight for them."
William H. Macy, who won TV actor in a comedy for his derelict character on Showtime's
Shameless
, took a different tactic: "I would like to thank president Trump - for making Frank Gallagher seem so normal," he said.
Netflix's
Orange is the New Black
star Taylor Schilling took the microphone when her cast won best comedy ensemble. "We stand up here representing a diverse group of people, representing generations of families who have sought a better life here, from places like Nigeria; the Dominican Republic; Puerto Rico; Colombia; Ireland," she ticked off. "And we know it's going to be up to us and all of you, probably, to keep telling stories that show what unites us is stronger than the forces seek to divide us."
Mahershala Ali of
Moonlight
was on the verge of tears throughout his speech for best supporting actor, which he won for playing a drug dealer who helps mentor a troubled kid who is bullied for his sexuality.
"I think what I have learned from working on 'Moonlight,' we see what happens when you persecute people. They fold into themselves. And what I was so grateful about . . . was playing a gentleman who saw a young man folding into himself as a result of the persecution of his community -- and taking that opportunity to uplift him and tell him that he mattered, that he was okay and accept him," Ali said, voice shaking. "I hope that we do a better job of that. When we kind of get caught up in the minutiae, the details that make us different, I think there's two ways of seeing that: There's an opportunity to see the texture of that person, the characteristics that make them unique -- and then there's the opportunity to go to war about it."
Taraji P. Henson's powerful speech had similar themes when she accepted the best cast ensemble win for
Hidden Figures
, about black female mathematicians who worked at NASA in the 1960s. "This story is of unity. This story is that what happens when we put our differences aside and we come together as a human race," she told the audience, who was screaming and cheering wildly. "We win. Love wins every time."
Sarah Paulson encouraged everyone to donate to the American Civil Liberties Union. "I would like to make a plea for everyone, if they can, any money they have to spare, please donate to the ACLU to protect the rights and liberties of people across this country," she said during her acceptance speech for TV movie actress in
The People v. O.J. Simpson
, in which she played prosecutor Marcia Clark. "It's a vital, vital organization that relies entirely on our support."
When Bryan Cranston won the TV movie actor prize for starring as Lyndon B. Johnson in HBO's
All the Way
, he noted that many ask him what Johnson would have thought about Trump. "I honestly feel that 36 would put his arm around 45 and earnestly wish him success," Cranston said. "And he would also whisper in his ear something he said often, as a form of encouragement and a cautionary tale: 'Just don't piss in the soup that all of us gotta eat.'"
While accepting a lifetime achievement award, Lily Tomlin pondered what sign she should make for the next protest march: Something about global warming? LGBT issues? Immigration? Later, presenter Sophia Bush wondered what the roles in the TV drama actor category had in common: A paranoid hacker; a successful businessman; a world leader; an heir with ties to the opposition; and a sociopathic chief executive. "If I say what I'm thinking, I'm risking a Twitter war," deadpanned rapper Common, her co-presenter.
Presenter Alia Shawkat took a dig at "alternative facts": "Like many of our nominees here tonight, we represent people who have come from other cultures. And that's a real fact," she said. Presenters Rashida Jones and Riz Ahmed joked that descriptions of the shows up for best drama ("A nation under the thumb of monarchy. An aristocrat on the verge of bankruptcy forced to downsize. Good versus evil. Sex and violence. Life in medieval times. A return to the 1980s and a world upside-down. Outlaw robots running rampant without fear of retribution.") were are all "headlines we read this morning."
John Lithgow, who won TV drama actor for Netflix's
The Crown
, gave a shout-out to Meryl Streep's now-famous speech at the Golden Globes, which earned her Trump's ire as an "underrated" actress. Lithgow called her "a great, underrated actress who somehow managed to speak my exact thoughts three weeks ago."
Meanwhile, during the award show's intro, ABC's
Scandal
star Kerry Washington offered a preemptive defense about why Hollywood stars have every right to speak up. "A lot of people are saying right now that actors shouldn't express their opinions when it comes to politics," she said. "But the truth is, actors are activists no matter what, because we embody the worth and humanity of all people."
---
COMPLETE LIST OF WINNERS
Movies:
Outstanding performance by a cast in a motion picture
Captain Fantastic
,
Fences
,
Hidden Figures
- Winner,
Manchester By the Sea
,
Moonlight
Outstanding performance by a male actor in a leading role Casey Affleck,
Manchester By the Sea
Andrew Garfield,
Hacksaw Ridge
, Ryan Gosling,
La La Land
, Viggo Mortensen,
Captain Fantastic
, Denzel Washington,
Fences
- winner
Outstanding performance by a female actor in a leading role Amy Adams,
Arrival
, Emily Blunt,
The Girl on the Train
, Natalie Portman,
Jackie
, Emma Stone,
La La Land
- winner Meryl Streep,
Florence Foster Jenkins
Outstanding performance by a male actor in a supporting role Mahershala Ali,
Moonlight
- winner Jeff Bridges,
Hell or High Water
Hugh Grant,
Florence Foster Jenkins
Lucas Hedges,
Manchester By the Sea
, Dev Patel,
Lion
Outstanding performance by a female actor in a supporting role Viola Davis,
Fences
- winner Naomie Harris,
Moonlight
Nicole Kidman,
Lion
Octavia Spencer,
Hidden Figures
Michelle Williams,
Manchester By the Sea
TV:
Outstanding performance by an ensemble in a drama series
The Crown
(Netflix)
Downton Abbey
(PBS)
Game of Thrones
(HBO)
Stranger Things
(Netflix) - winner
Westworld
(HBO)
Outstanding performance by an ensemble in a comedy series
The Big Bang Theory
(CBS)
Black-ish
(ABC)
Modern Family
(ABC)
Orange is the New Black
(Netflix) - winner
Veep
(HBO)
Outstanding performance by a male actor in a television movie or limited series Riz Ahmed,
The Night Of
(HBO) Sterling K. Brown,
The People v. O.J. Simpson: American Crime Story
(FX) Bryan Cranston,
All the Way
(HBO) - winner John Turturro,
The Night Of
(HBO) Courtney B. Vance,
The People v. O.J. Simpson: American Crime Story
(FX)
Outstanding performance by a female actor in a television movie or limited series Bryce Dallas Howard,
Black Mirror
(Netflix) Felicity Huffman,
American Crime
(ABC) Audra McDonald,
Lady Day at Emerson's Bar & Grill
(HBO) Sarah Paulson,
The People v. O.J. Simpson: American Crime Story
(FX) - winner Kerry Washington,
Confirmation
(HBO)
Outstanding performance by a male actor in a drama series Sterling K. Brown,
This Is Us
(NBC) Peter Dinklage,
Game of Thrones
(HBO) John Lithgow,
The Crown
(Netflix) - winner Rami Malek,
Mr. Robot
(USA) Kevin Spacey,
House of Cards
(Netflix)
Outstanding performance by a female actor in a drama series Millie Bobby Brown,
Stranger Things
(Netflix) Claire Foy,
The Crown
(Netflix) - winner Thandie Newton,
Westworld
(HBO) Winona Ryder,
Stranger Things
(Netflix) Robin Wright,
House of Cards
(Netflix)
Outstanding performance by a male actor in a comedy series Anthony Anderson,
Black-ish
(HBO) Tituss Burgess,
Unbreakable Kimmy Schmidt
(Netflix) Ty Burrell,
Modern Family
(ABC) William H. Macy,
Shameless
(Showtime) - winner Jeffrey Tambor,
Transparent
(Amazon)v Outstanding performance by a female actor in a comedy series Uzo Aduba,
Orange is the New Black
(Netflix) Jane Fonda,
Grace and Frankie
(Netflix) Ellie Kemper,
Unbreakable Kimmy Schmidt
(Netflix) Julia Louis-Dreyfus,
Veep
(HBO) - winner Lily Tomlin,
Grace and Frankie
(Netflix)
Stunt Ensembles:
Outstanding action performance by a stunt ensemble in a motion picture
Captain America: Civil WarDoctor StrangeHacksaw Ridge
- winner
Jason BourneNocturnal Animals
Outstanding action performance by a stunt ensemble in a comedy or drama series
Game of Thrones
(HBO) - winner
Marvel's Daredevil
(Netflix)
Marvel's Luke Cage
(Netflix)
The Walking Dead
(AMC)
Westworld
(HBO)
©2017, The Washington Post
(This story has not been edited by NDTV staff and is auto-generated from a syndicated feed.)