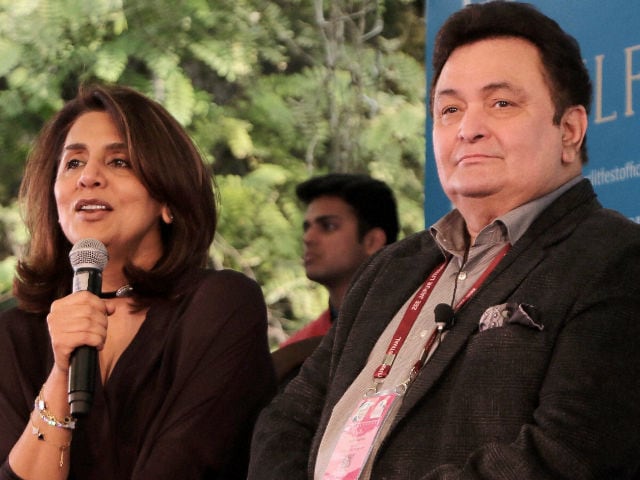 Highlights
Rishi Kapoor was speaking at the Jaipur Literature Festival on Friday
'Whichever political party comes, they name structures,' he said
'I have no complaints against any one family,' he added
New Delhi:
Actor Rishi Kapoor
returned to a controversy he commented on last year while speaking at the Jaipur Literature Festival on Friday, reported news agency IANS. Why name public structures after politicians, 'one family' in particular, the 64-year-old actor asked in his session discussing his new autobiography,
Khullam Khulla
. Last year in May, Mr Kapoor tweeted, "If roads in Delhi can be changed, why not Congress assets/property?" At the Jaipur Lit Fest, he resumed the topic while responding to a question about his tweets. "There are so many structures and roads named after the Gandhi family in Delhi alone. Is it necessary to have it in such numbers? What purpose does it serve?" said the actor, reported IANS.
"I was angry when I saw a bridge being named after Rajiv Gandhi. I mean it may be a way of paying respect, good that he was there but why name structures after him even now? Can you ignore the contribution of Lata Mangeshkar or JRD Tata? Why not name these structures after such figures rather than political leaders,"
Mr Kapoor was quoted
by IANS as saying.
"I have no complaints against any one family but when I saw structures being named after the family, it irked me because there are so many others like Lata Mangeshkar and JRD Tata who have contributed to Mumbai. Whichever political party comes, they name the structures and yojnas after them. I think the constitution should ban the naming of such structures after politicians,"
Rishi Kapoor continued
.
Last year, commenting on a proposal to rename Delhi's Akbar Road after former President Dr APJ Abdul Kalam, Rishi Kapoor posted this tweet and others:
We must name important assets of the country who have contributed to society. Har cheez Gandhi ke naam? I don't agree. Sochna log!

— Rishi Kapoor -"Book" (@chintskap) May 17, 2016
At Jaipur Lit Fest, he dismissed suggestions of being politically partisan, saying "I have no political ambitions and I am not a BJP chamcha. I say and do what I feel is right. I spoke against the beef ban. I am not doing any chamchagiri," reported IANS.
Rishi Kapoor
also claimed that Bollywood had been unaffected by the currency ban, saying, "I can tell you Bollywood has not been affected by demonetisation. There is no stashed money there. It is the real estate and the black market that is, rightly, suffering."
In Khullam Khulla
, named after a song from Rishi Kapoor's film
Khel Khel Mein
, Mr Kapoor has written about meeting underworld don Dawood Ibrahim, his father Raj Kapoor's affair with Nargis, and why he feels Amitabh Bachchan never credited his co-stars.
(With inputs from IANS)